May 11, 2021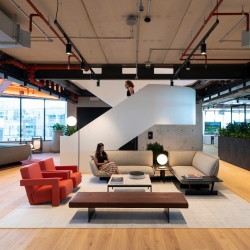 As 2020 came to a close, there was a palpable sense of hope that 2021 would bring with it a fresh slate with the horrors of COVID behind us. Alas, that has not happened and it seems we have more of the same, certainly for the next few months and with that the speculation about the 'future of the office' will no doubt continue.
If we rewind to March 2020 when there was a phenomenal amount of knee-jerking rhetoric from all quarters; was this really the great and unplanned working from home experiment? Death of the office? Perhaps the start of a new normal even? I think not and there are a number of factors why it isn't; firstly, children aren't at school, secondly the bars, restaurants and shops are closed and thirdly, even now, we are only as far as the autumn of a global pandemic.
Businesses struggled to get their heads around the concept of agile working at all
With so many unknowns, the urge to predict the definitive future of the office seems futile but that doesn't seem to stop some commentators. Let us not forget that right up until the moment of lockdown, the majority of businesses struggled to get their heads around the concept of agile working at all – so to conceive that organisations suddenly developed the cultures, organisational structures, property strategies and wellbeing programmes to support employees for an entirely different approach to work in a matter of weeks is disingenuous.
What has happened, to the credit of many workers, is that they have coped and managed in the face of adversity – but it hasn't been easy for the majority.
Two key positives to take at this point: reticent employers have learnt to trust their employees to work from home and for the majority, the tech works but these are hygiene factors. The long term and far more complex issues to deal with are centred around the multifaceted topics of human interaction and feelings of isolation, as well as generating creativity and spark.
A new hope
This is where the 'office' serves its primary purpose, it brings people together for a united goal, essentially it is where the magic happens – not in a regimented manner dictated to by diary invites from one Zoom meeting to another Teams but with true spontaneity.
High performing working environments don't happen by accident, they are the result of experts who have spent years understanding and crafting what the optimum space for business and people should be. Importantly this isn't just about the physical space, the impact on mental wellbeing is enormous, jumping from one call to the next doesn't allow sufficient time to re-energise and reset, discuss and digest. Without the essential time for contemplation, employees and therefore businesses will ultimately suffer.
The issue of 'productivity' is also an interesting one. Prior to lockdown, measuring productivity has always been the 'holy grail' for workplace experts. Yet suddenly we are faced with reports that employees feel more productive at home – and of course they (genuinely I must add) do feel more productive at an individual level but this doesn't necessarily translate into an overall increase of business productivity.
Beware productivity
Commentators need to be wary of expressing the 'feel good factor' as productivity, the risk is that we begin to measure workers purely on transactional tasks, of which the unintended consequence could be the deskilling of the workforce.
Senior and established members also need to be wary about losing touch with the company
Forward thinking leaders know how vital culture is to the success of a business. When a person is hired it is not only for the mechanics of their skills, it is also for all the wonderful immeasurable elements of their personality. You hire them not just for the immediate need but for their potential to be part of the future too. Which brings me neatly to my next point – the complexity of on boarding remotely; it is very difficult to get to know someone, what they are capable of and to create to chemistry within a team – it is especially hard on the naturally shy.
Senior and established members also need to be wary about losing touch with the company. Remote structures seem to be far more hierarchal, the ad-hoc chats with a new member of staff in the kitchen aren't happening and that is a dangerous place to be for a leader. The division continues when we consider generations – there is huge difference between an established person working from a designated office at home, to the intern who may be stuck in the same small living space, often shared, all day. The gulf in quality of life is enormous.
Overall, there are undeniable benefits to a flexible work approach and it is imperative that these are retained as we move forward into hybrid solutions but we must do so with realism, understanding that it is still not perfect, needing careful consideration and management. The balance between office and home is crucial and must still favour the office as the beating heart of the operation.
What is emerging from this crisis is the hugely elevated consciousness and interest around employee wellbeing and social purpose. Successful businesses that survive and flourish beyond the pandemic will be those that continue to prioritise employee welfare, coupled with their wider contribution to society.
This piece first appeared in issue 6 of IN Magazine. Image: BDG architecture + design