October 24, 2022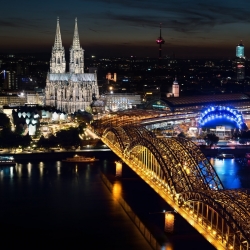 For as long as we've been in this industry, we've sat and chatted with leading lights from the London furniture market, first listening to fantastic tales and raucous anecdotes, and later telling our own recollections of Cologne. We originally wondered whether these stories were simply that – mere myths and Chinese whispers. Then, of course, we headed to Orgatec, we walked the halls of the Messe, we spent our evenings in the Alter Markt, and we returned to Blighty with our very own Cologne anecdotes.
We still get a funny feeling inside (half excitement, half fear) when we think about those long, long days and nights. It might have felt like a whole load of fun when we were in our twenties and early thirties. We could do four or five days without a second thought. I'm not sure the stamina is still there for that length of stay!
A couple of nights in Cologne does sound just the ticket though.
We like Orgatec. We like Cologne. We like meeting up with all the people who, like us, are looking to create new future tales. We know that there are a number of major international (and also a couple of key German) brands not showing at the Messe this year. But that's about all we do really know. It's nigh on impossible to pull together a comprehensive product-based preview of the show, as those who are exhibiting are being extremely tight-lipped, preferring to keep their powder dry until the show itself.
Over the pages of our preview of this year's show we've asked a variety of industry friends to tell us about their hopes, expectations and plans for Orgatec 2022. We hope to catch up with both them and many of you in Cologne – either at the Messe, out in the Alter Markt or at the Thursday night Orgatec Reloaded After Party, which we're delighted to be asked to be a part of by our friends at CMD.
Let's create some brand new tales of Cologne.