July 7, 2020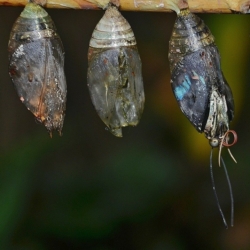 Over the last several months, some workers have exhibited a new ailment that has got nothing to do with the COVID-19 pandemic that sent them scurrying home to set up virtual offices in the first place. It's called FOGO, as coined by Forbes magazine contributing writer Jodie Cook, and it refers to a new phenomenon known as the "Fear of Going Out".
It's easy to see why employees might develop such a phobia. Under strict mandates to shelter at home, we've all been exposed to a news-cycle that relentlessly equates going out, even for an essential trip to the grocery market, to high-risk behavior. Once we got used to lockdown, and saw how much we could still accomplish electronically (including attending Zoom meeting in pajamas) there were fewer reasons to re-enter the world outside, and some of us have let the social skills required to do so get quite dusty.
Too many pandemic-related stresses emanating from both work and family have pushed self-care to the back burner
A recent survey of a thousand US workers conducted by The Wellbeing Lab in partnership with George Mason University's Center for the Advancement of Wellbeing and Dr. Peggy Kern from the University of Melbourne, backs this notion up. In it, nearly half of workers polled reported not feeling confident to "care for their wellbeing" right now. Too many pandemic-related stresses emanating from both work and family, have pushed self-care to the back burner. How could we be expected to go back outside ungroomed, exhausted, and feeling less than 100% after finally adapting to life inside?
Additionally, more than half of survey respondents expressed reservations about returning to the workplace at all, concerned about the new corporate environments they would be facing. And only about a quarter of those polled actually expressed "feeling positive" at the prospect of returning to work. Those are pretty sobering numbers.
What might be even more revealing about the survey is that it identified a general feeling of mistrust employees have about talking about their feelings in the workplace. It showed that 90% of American workers reported a "significant increase" in their struggles since the beginning of the year – which has impacted job performance and wellbeing. But, that said, only an appalling 2 out of 10 felt comfortable about talking about those struggles at work. And only 6% of American workers felt they could turn to their Human Resource departments about their concerns, unless it directly related to losing their jobs, in which case HR and Employment Assistance Programs became viable options.
First steps
Given the new state of FOGO and general employee apprehension about supportive resources in the workplace, what practical steps should managers be taking now to ease the transition back into the office?
The quality of our relationships has been severely compromised because of the recent need to isolate ourselves
Fortunately, with so much change in the air, this is actually an excellent opportunity for forward-thinking leaders to make meaningful changes to the way they respond to worker apprehensions. So many corporations and HR departments have rested for too long on the fading laurels of providing a competitive benefits package, flex time, and health plans. Having checked off those boxes, they have failed to identify the very new and genuine wellbeing concerns that their employees face.
So, what is it that their workers truly want? Empathy and compassion, actually. And now more than ever. Over the past decade a growing body of research has pointed to the "quality of our relationships" as the number one predictor of a person's overall wellbeing.
However, in an era of physical distancing – and one in which networking opportunities are limited to a 14-inch laptop screen and a Zoom connection – this is a concept that's difficult for managers and employees to wrap their heads around. The quality of our relationships has been severely compromised because of the recent need to isolate ourselves.
Using the tools
Nonetheless, The Wellbeing Lab Workplace Report reveals that expressing care, compassion, and appreciation are the three most under-utilized, affordable, and effective tools every business leader has freely available to them. With studies indicating that those leaders that express care for their workers' wellbeing, show compassion for their struggles, and let their people know when and why their efforts are appreciated, the levels of employee wellbeing, connection and performance shoot skyward.
What managers can do to help their returning employees is to create a positive emotional culture in the workplace. While the physical layout of the office will emphasize distance, it's a terrific opportunity to emphasize skills such as listening to employee's individual concerns, responding with solutions to those concerns, providing constructive feedback, and indicating, through actions, that we are all in this together.
Associate Professor Mandy O'Neill's research has found that the when leaders prioritize the creation of a positive work environment, their teams are more likely to have better performance, better customer service, and be more innovative. In contrast, an ongoing culture of negative emotions in the workspace often leads to burnout, absenteeism, poor performance, and high turnover.
Given this chance to re-build a workplace, teaching business leaders the skills to increase their own wellbeing and genuinely connecting and coaching their teams through challenging times will positively impact individual performance, team cohesion, and organizational effectiveness.
Images: GLady 
Dr. Michelle McQuaid has worked as a senior leader for some of the world's largest organisations in London, New York & Australia. She completed her Masters in Applied Psychology at the University of Pennsylvania, and is passionate about bringing out the best in people. She is a speaker, coach and author of Your Wellbeing Blueprint: How To Feel Good & Function Effectively At Work.