July 8, 2020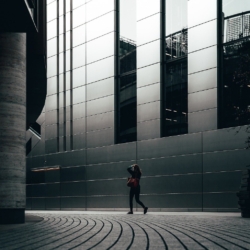 More than eight-in-ten London-based banking and finance professionals (86 percent) say Covid-19 lockdown has affected their mental health, according to a new survey of white-collar employees by Helix Resilience. According to the survey of 352 banking and finance professionals, over half (52 percent) of respondents claim to be less productive, and nearly four-in-ten (39 percent) say they find it difficult to concentrate outside the office. While most working in the sector (53 percent) feel their employer is doing enough to support their wellbeing during lockdown, a third (33 percent) do not feel supported.
The survey also claims that 45 percent of banking and finance employees are eating more junk food, while 41 percent are exercising less than before lockdown and nearly half (47 percent) say they are more uncertain about their personal finances. Almost a third are drinking more alcohol (32 percent). Nearly a quarter (24 percent) are gambling more often and 16 percent are using more recreational drugs.
However, 42 percent of banking and finance employees say less commuting has improved their work/life balance with the same percentage (42 percent) saying they are happy to continue working from home. Nearly half (48 percent) are optimistic most of the time about following their career path after Covid-19.
Some of the research's other findings include:
Almost half (47 percent) are suffering disrupted sleep because of lockdown and its effects
38 percent say they are less productive because they feel depressed
36 percent feel anxious or poorly motivated
A third (33 percent) say they are fearful of public transport or afraid to go out
More than a third (35 percent) say they are working longer hours
"Employees in banking and finance often have to cope with high levels of pressure, so while it is pleasing so many feel supported by their employers during such a difficult time, the research shows there is clear room for improvement," said Dr Stephen Pereira, founder and CEO of Helix Resilience.
"Many City institutions and banks understand the importance of using new neuroscience-based preventive techniques and interventions to build resilience into their workforces. It's time the rest caught up," said Dr Pereira. "Companies in the financial sector must offer meaningful support to employees if the longer-term effects are not going to be damaging to individuals and businesses as lockdown is loosened. Deloitte estimates the cost of poor workplace mental health and wellbeing at £45bn in the UK. The loss of energy and innovation, however, is impossible to cost, as is the toll on personal wellbeing."
Image by Yoss Cinematic