May 13, 2020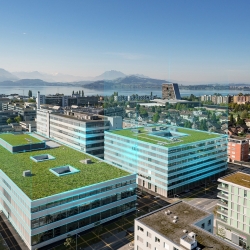 The expression "if these walls could talk" is taking on an entirely new meaning with the emerging opportunity to create digital twins for buildings, claims Peter Löffler, the head of innovation at Siemens Smart Infrastructure in a new episode of the Workplace Insight podcast. Across the entire lifecycle of structures such as office buildings, hospitals, airports and hotels, creating a digital twin can significantly reduce costs, improve efficiencies, speed construction delivery, as well as enhance performance and the user experience.
"The opportunities of how to apply the data from the twin are wide-ranging," he says. "We have demonstrated that during the design of any building the digital twin can help create safer evacuation routes and infrastructures. In a hospital, a building digital twin can help monitor not only the location of equipment but also of patients as they move through the building. For office building tenants and owners, a digital twin can provide real-time monitoring of the occupancy and use of building spaces to help reduce lighting and heating, ventilation and air conditioning (HVAC) costs, while providing insights for better use of space."
All of the Workplace Insight podcasts are available on Soundcloud, Spotify and iTunes, or you can simply listen online below.