October 6, 2021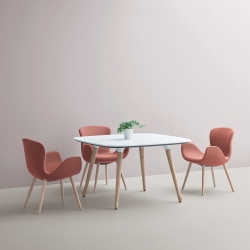 Launched this week at Neocon, the Phlox Collection from Okamura is designed by Rainlight. Taking inspiration from nature the collection of collaborative chairs and tables beckon colleagues to connect with comfort and ease. Phlox was named after the unique Night Phlox flower and inspired by a close-up view into our natural world, welcoming its gentle influence and naturally curved arcs.
The beautiful, curved forms soften the workspace and invite a flow of activity and creative ideas. The comfortable rounded seats gently wrap the body with fluid lines and a soft supportive structure whilst the organic tables echo the curves of the chairs and rest on slender daintily poised legs. Capturing both the vitality and calming influence of nature, Yorgo Lykouria the creative principal of Rainlight designed Phlox with circularity in mind ensuring a gentle footprint.
With tactile beauty and ergonomic comfort, Phlox seating invites a range of authentic interactions at work. The collection breathes energy into the space allowing collaborative conferences to flow. Intuitive adjustments, a choice of three different heights and mid or high backs offer a range of seating to host a variety of meetings. Settle into Phlox lounge chairs for a deep discussion or time to reflect, Phlox café style chairs welcome easy and spontaneous collaborations that build trust and connect the team. The soft organic curves of Phlox seating create a welcoming range of creative settings that inspire creativity and natural communication. Two tone upholstery adds tactile and visual interest, there are eight carefully curated colours for the inner shell with a palette greys, blues and neutrals and grey or dark grey for the outer shell.
Every component of the Phlox chair has been carefully considered for its impact on the environment. The structural shell is made from 100% recycled polypropylene, salvaged from the manufacturing processes of other products, and designed to reduce CO2 emissions. Re:net he upholstered fabric which was newly developed for Phlox is made from salvaged fish nets from Japan's sea, then knitted together with recycled PET yarns to create a deeply shaded and sustainable textile. Phlox is easily dissembled into separate components to ensure recyclability after a long use-life.
With a selection of sizes, heights, shapes and natural finishes, Phlox tables create a diverse landscape that draws teams in, to connect naturally and authentically. The pentagonal shape is ideal for a small-sized gathering of two to three people. A medium sized table is versatile and ideal for meetings of around five or six people. The tabletops feature an elegant and tapered knife-edge detail.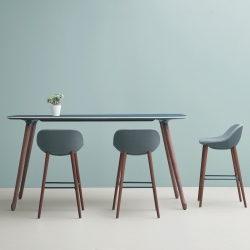 A diverse selection of textures and finishes engage the senses and stimulate wellbeing. Choose from wood veneer, laminate or linoleum worktop each with a curated range of colour choices that can be beautifully matched with legs in one of four woodgrain finishes. For even greater sustainability benefits, consider a distinctive and beautiful laminated bamboo veneer. Growing 2o times faster than conifer plantations and absorbing up to 40 times more CO2 per hectare, bamboo is natures sustainable choice.
Phlox table offers two choices of power supply. An in-surface port embedded on the top of the table is visible and easily accessible, while under-mounted power is concealed beneath the surface keeping the tabletop clean and flat. Mesh wire management trays can be attached under the tables surface to neatly house power units and extension cords. Matching vertical wiring ducts can be paired with the trays to keep table management tidy.