June 10, 2016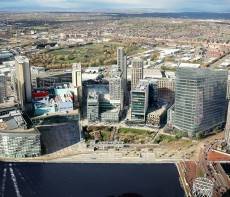 MediaCityUK, best known as the new home of the BBC, is to double in size over the next decade under ambitious plans submitted to Salford City Council. Up to ten new buildings are envisaged with a development value of more than £1 billion. Key features of phase two of MediaCityUK include 50,000 m2 (540,000 sq ft) of offices, 1,800 apartments, retail and leisure, complemented by public spaces with a pedestrian promenade running through the scheme. Outline approval for the plans was granted in 2006. A condition of that permission was that detailed proposals, including all building designs and specifications, needed to be brought forward this year. The plans are expected to be considered by Salford's planning panel in September. MediaCityUK is a joint venture between Peel Land and Property and Legal and General Capital, who share a long-term commitment to the further expansion of a creative and digital hub which already houses 250 businesses including the BBC, ITV, dock10, Ericsson and SIS.
Steven Underwood, Chief Executive of The Peel Group, said: 'This application is another major step forward in the evolution of MediaCityUK. Our partnership with Legal and General Capital, alongside continued support from the public sector, provides a strong platform to deliver future development phases of the UK's fastest growing hub for the creative and digital industries.
"MediaCityUK is a shining example of what can be achieved across the Northern Powerhouse, combining the talents of great people with ambition and vision.'
The next major development to be unveiled at the site will be the new Tomorrow building, which is set to come on stream during the summer and The Lightbox apartment block due to commence construction in early 2017.
Stephen Wild, Managing Director, MediaCityUK, said: 'We pride ourselves on having created much-loved buildings such as The Pie Factory and The Greenhouse. Phase two will provide a unique opportunity for a new generation of designs to complement what is already a thriving and vibrant destination. Like any city, we continue to grow in line with the needs of business – today's plans show the huge potential for the MediaCityUK of 2026.'
A team of architects led by master planners, Chapman Taylor, was appointed to design the individual plots.
Tim Partington, Director, Chapman Taylor, said: 'MediaCityUK is already a leading international hub for the creative and digital sectors, a centre of learning and a visitor destination. Phase two will bring a new residential community supported by high quality public realm, leisure and retail facilities, ensuring that the development is a sustainable urban neighbourhood and an exemplar for the 21st century.'