March 28, 2017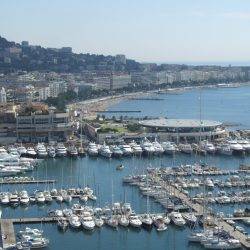 Cannes-based international real estate fair MIPIM has always been a magnet for cities, determined to extoll their virtues to investors, developers and occupiers, but this year the UK was in charm overdrive. Buoyed no doubt in part by the presence of the UK government's Department of International Trade (DIT), waving its 'open for business' flag for UK PLC, many of the towns and cities that would normally have ploughed their own furrow, instead came together to leverage critical mass. So Bradford and Leeds combined, conurbations across the central belt conjoined on a Midlands pavilion, and so on. Whether it was panic or confidence, the net result was an unusually prominent UK presence, up a quarter on last year. Of course the UK is just one nationality among the 24,200 real estate and city professionals from 100 countries who come together in Cannes every March.
While Brexit was, inevitably, never far from discussion, the UK was far from the only country to be experiencing political and social change. The US presidential elections, elections in France, Germany and the Netherlands, accelerating tech innovation and a growing global urban population, were all part of the backdrop to this year's MIPIM.
What is clear is that Britain's main cities are vying hard to attract commercial development and on a hard sell to persuade occupiers that they offer the stock, lifestyle location and available housing to match employer and employee expectations. Rennie Dalrymple, Managing Partner of Bruceshaw commented: "Although London is in a league of its own when it come to scale in the UK, it would be wrong to assume that is the only location where there is any action. There are many other key cities; Belfast and Glasgow that have exciting and important developments taking place that will be vital in promoting a platform for growth nationally while tackling the big issues such as the housing crisis while providing a rapid return on investments in infrastructure."
And they rolled out the big guns to push the UK story. Manchester's outgoing chief executive, Sir Howard Bernstein, said that at a time of uncertainty it was more important than ever for Manchester to promote the fact that it is open for business. Jules Pipe, Deputy Mayor of London, added that the UK capital will continue to attract major investment. Referring to Brexit, Pipe said that "whatever happens, London will come through this," predicting that if real estate investors seek alternative destinations to London, they are likely to look at New York, Singapore or Hong Kong rather than rival European capitals.
In the meantime, London is preparing for the reshaping of the West End with the impending completion of the Crossrail project in December 2018. City BID New West End Company (NWEC) chief executive Jace Tyrrell stressed that after an infrastructure project "a decade in the making", London was now getting ready to begin reaping the benefits of a transport project that should bring a 25% increase in footfall to the heart of the city.
"I don't think there is a city centre or shopping destination that wouldn't ache for that sort of increase," said Tyrrell. "Office occupiers, retail operators and leisure companies are all now beginning to think about how they configure their space to capitalise on this huge opportunity."
Indeed, the appetite for foreign investment in London remains as enthusiastic post-Brexit as ever, according to London First member Broadgate Estates, with CEO Steve Whyman convinced that its role as a global city will not be impacted. "Wider co-operation, in particular with issues such as building more new housing stock, is very important for the city because as infrastructure projects such as Crossrail complete they will have a major real estate effect well beyond London," he said of the need to provide places for London workers to live. "London is a very resilient city and the diversity of businesses now, including proptech, fintech, the creative industries, SMEs and so on demonstrates the range of businesses established within the capital."
Supporting this theory, the UK has witnessed a number of high profile new occupiers pushing ahead with their plans. Last September Great Portland Estates confirmed that it had pre-let all of the office space at Rathbone Square to Facebook, followed shortly afterwards by Apple taking around 500,000 sq ft at Battersea Power Station. Google also has huge plans to extend its presence at Pancras Square in a £1bn project that will accommodate around 7,000 people.
Outside London, the 4m sq ft Liverpool Waters and Wirral Waters projects were showcased at MIPIM, as developer Peel outlined plans for the regeneration gateway to the north-west of England. Peel revealed the first glimpse of the new Central Docks neighbourhood, as well as releasing eight new plots for investor development.
The £5bn Liverpool Waters project will transform 150 acres of historic docklands, the biggest single regeneration project in the history of Liverpool and one of the biggest of its kind anywhere in the world. This Central Docks neighbourhood will include over 2m sq ft of mixed use floor space including 750,000 sq ft of office space, plus over 1,000 new waterfront apartments in buildings up to 44-storeys high.
Lindsey Ashworth, director of development of Liverpool Waters, said: "It's been our vision to turn this derelict and under-used regeneration site into prime waterfront. We want these projects to be a combined visual gateway into the north-west, with buildings that make this an awesome and powerful symbol of prosperity. We're delighted that the UK government has created a super-region going across from Liverpool and Manchester to Hull and Leeds and we fully endorse the Northern Powerhouse."
Looking beyond the UK, global marketing and advertising group WPP arrived in Cannes with a new real estate strategy to help transform its business, based on increasing cooperation between individuals within different group companies, said Max Holliday, WPP's head of real estate, EMEA.
The process began in 2015 and will continue until around 2022 or 2023 as the group looks to relocate its businesses into collaborative office spaces in 30 or 40 key locations across Europe. First to be delivered will be offices in Hamburg and Lisbon later this year, followed by cities including Madrid, Amsterdam and Milan in 2018/19, designed by BDG architecture + design.
"The underlying reason behind it is that WPP is increasingly bringing individuals from different businesses within the group together to support key clients across a range of disciplines, be it advertising, media, public relations and so on, to offer a one-stop shop," said Holliday. "To facilitate that requires those people to be in the same building, and that's what we're helping the company to achieve."
So there you have it. An upbeat British mood, reflected by the sunshine that basked the 28th MIPIM, contrasted with the more uncertain clouds lingering over Europe. Anthony Brown Sales & Marketing Director of fit-out business BW, reported a positive tone: "An excellent Mipim 2017 from BW's perspective, there seemed to be a more senior delegation and whilst conversations around Brexit and Trump were commonplace so was a confidence in the medium-term outlook."
So, whether the Brexit effect will be felt more keenly in the offices occupier market next year remains in question, but the UK's commercial hubs are certainly doing all they can to push brand Britain.