October 19, 2020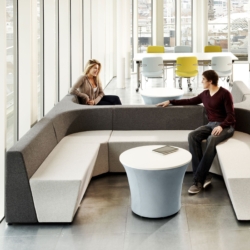 Originally published in Feb 2016. Ever since people first started working in modern offices just over a century ago, we've grown accustomed to the idea of a constantly evolving workplace. Trends in office design have tracked those in management thinking, social attitudes, technology, demographics, architecture, the economy and legislation. Yet for most of that elongated century, there were some underlying principles that remained pretty constant.
This was true even in the revolutionary years at the turn of the Millennium as technology became more mobile, Internet access became ubiquitous and flexible working became commonplace. Even then, most people still worked in offices for relatively fixed periods and those that didn't, including those that worked at home, did so in a time and place that aped the structures of the corporate HQ.  Over the past ten years or so those structures have begun to crumble and fall and we are entering a new era.
This does not mean that the office is dying, as some people may claim, but that it is reinventing itself within the context of a new set of ideas about where, how and when work is carried out. Where once the office was solely a building, the modern workplace now consists of a wide range of physical, virtual and cultural spaces of which the office is just one of the more important.
The boundless nature of this form of work is not merely altering the way we design, manage and use offices but is actually changing their very nature. This level of change inevitably has some profound implications and we set out some of the most important here  and explore how they are defining the changing relationship between people, place and technology. As a consequence, this not about some spurious ideas about the office of the future, these are all happening and observable developments right now.
We've now published our latest analysis of this emerging world of work which was mailed to over 16,000 subscribers to Insight as well as our own extensive database. The report sets out the drivers of change and highlights the opportunities they create. Crucially, this report shows how work has escaped the bounds of the traditional office, opening up new vistas for organisations and the people with whom they work.