May 14, 2020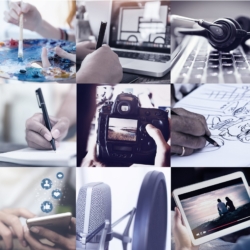 The number of people freelancing around the world is expected to increase significantly from the current estimated 150 million to over 520 million in the next five years. The freelance industry is expected to contribute about US$2.7 trillion by 2025 as more and more businesses and entrepreneurs increasingly rely on online outsourcing to get their work done efficiently.
With so many freelance platforms out there, deciding where to go for quality at great value can be a daunting experience, so why not take a bit of advice from those who have already walked that walk.
Paul Homewood is a successful songwriter and marketing expert from London and as a small business owner, he relies significantly on online outsourcing so he can focus on working his magic where his unique expertise is indispensable. He's been outsourcing to freelance for over six years and has purchased hundreds of jobs to people on Fiverr, Upwork, 99Designs, PeoplePerHour.
"I find online outsourcing via freelance platforms to be the most powerful tool small businesses as well as others that require remote talent to help with specific tasks can put their hands on," he said. "It is a great feeling to know that while you sleep, somebody in a different time zone is working for you."
"I have purchased over 40 freelance tasks on AnyTask," he said. "I have to say I was stunned to see the amazing talent on that platform and, honestly, I was not expecting to be. It is brilliant. It is exactly what I need because I can't conform for less as my clients want the best quality money can buy."
Paul also likes AnyTask over the other leading platforms because it "is an opportunity to give people work who wouldn't otherwise have access to the global digital economy because they are unbanked. It is a great opportunity to make a difference in the life of very talented people."
Is there really talent on AnyTask?
Well, George and Cinthya Ivan, Joseph Ogechukwu, Victor Abuka and Ibrahim Adams are just a few of the very talented freelancers you can find on AnyTask.
George and Cinthya Ivan of Ivan Studio have placed over a thousand high-quality video editing and production gigs in four years with clients around the world, including Middle East, Asia, and the United States.
They have nine years of video editing and producing experience. They do every single taks with the same passion they would do it for themselves,so it is no wonder they have tens of repeat clients from companies in the US, EAU and China.
Ogechukwu has a university degree in computer science and has over four years freelancing. He is continuously updating his knowledge and learning new things to deliver the highest quality possible.
"Learning and upskilling never end. I study and learn new things every day," Joseph went on to say. "I am now very good with several different video editing software, including Premier Pro. I have learned how to do many things with videos, including After Affects and so much more. I am also doing website design on WordPress."
About AnyTask
AnyTask, powered by the award-winning, UK-based crypto startup Electroneum, went into soft launch in mid-February. The objective behind the new freelance platform is to empower the unbanked and those living in developing countries by providing them access to the global digital economy without requiring a bank account or PayPal. Freelancers don't pay fees or commissions and buyers pay a 5% surcharge, which as much less than other leading freelance platforms.
In countries like Nigeria, where freelancers face many barriers and restrictions posed by other online marketplaces, AnyTask is the right solution as they do not have to pay 20% fees and commissions. It may not sound like much, but in countries where minimum wage is about US$2 a day, that extra income makes a huge difference.