June 1, 2023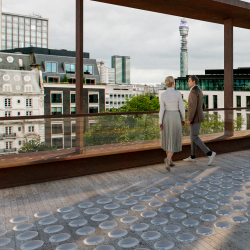 Major work has begun on the refurbishment of 25 Hanover Square, completing the regeneration of a prominent corner site in London's Mayfair with a 7-storey premium office building. This collaborative project between multiple stakeholders, including architects, interior designers and workplace experts Basha-Franklin, and asset and development manager Morgan Capital, has been holistically designed to fit the aesthetic of one of London's most recognisable and historic garden squares.  
The project will comprehensively refurbish the existing office through an innovative inside:out approach, which has been designed for Morgan Capital by Basha-Franklin. Harnessing and shaping the identity of the southwest corner of the square was seen as much about responding harmoniously to the outside setting as it is about creating bright, engaging environments inside the building which it offers onto. The brief aims to create a workplace refurbishment of high value for its future occupants, one where they will be empowered to drive culture in the workplace.
The ground floor at 25 Hanover Square has been designed more akin to a viewing gallery than a reception, presenting a dual-aspect showcase of eye-catching art to a wider audience at this corner of the square. Large, anti-reflective picture windows, frame views out of and into the building, inviting public gaze into the bright atrium and up through the building volume. Occupants will enjoy the biophilic benefits of views across the garden square, part of the Mayfair Conservation Area.
The existing basement has been rearranged to house new tanks to enable sprinklers to be placed throughout the building. The project includes a new entrance and reception at ground level, premium workspace, and a repositioned terrace on the 7th floor overlooking the square. Sustainable, high-performance materials will be used throughout, while the building's original materials will be reused and re-purposed.
Through careful analysis of the aggregated vanishing point to the streetscape to St George's Street and aligning the reworked façade to it, the refurbishment will help reinforce the new viewing corridor from Walker Street to the Grade II listed St George's church by establishing a fenestration rhythm which speaks to group of adjoining listed buildings to St George Street. A new feature staircase will promote interaction between floors, the daylight core framing views on every floor towards South London and the east.
Alex Franklin, Director of Architecture at Basha-Franklin, said: "The entire square has been regenerated in recent years meaning it hasn't been accessible to the public and the local communities for some time. This, however, is the final piece of the puzzle. This is a future-forward building in every respect – from the crafred, flexible interior layouts to technical innovation and our choice of newly emerging materials."
Alex Morgan, Asset & Development Manager, Morgan Capital, said: "The proposals for 25 Hanover Square will restore the building's relationship with the square while achieving the highest possible standards for design and sustainability. Through close dialogue with WCC Planning and Design Officers, we're delighted to have secured a considerably seamless planning consent for what will be one of the most inspiring and people-focused workplaces in central London."