September 15, 2017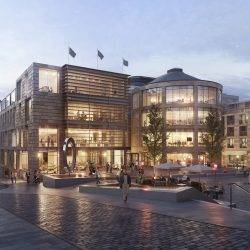 Strong demand and a lack of supply is helping to boast the regional office rental market, according to Savills' latest Regional Offices Market Watch. The firm anticipates that take-up will reach 9.8 million sq ft (910,450 sq m) by the end of 2017, a 4 percent increase on 2016 and 9 percent up on the 10 year average. This is due to a number of large Government Property Unit (GPU) deals completing in the second half of the year. As a result of strong demand, total availability across the UK fell by 1 percent to 30 million sq ft (2.787 million sq m) in the first half of the year, which equates to just 1.8 years worth of available Grade A supply. What's more, Savills notes that office based employment across the regional cities is forecast to grow by up to 4.6 percent over the next five years, leading to a net additional 55,000 jobs, representing a need for a further 5 million sq ft (464,616 sq m) of office space.
Significant deals in H1 2017 included the GPU pre-let of 190,000 sq ft (17,651 sq m) at in Edinburgh, Asos signing for 75,000 sq ft (6,967 sq m) at Leavesden Park in Watford, whilst serviced office provider, We Work, expanded in Manchester taking 56,000 sq ft (5,202 sq m) at No.1 Spinningfields.
Jon Gardiner, national head of offices at Savills, comments: "The significant loss of second hand stock to residential as a result of PDR, that might otherwise have been refurbished or redeveloped into new office space, has created an ongoing supply shortage across the UK. This coupled with a limited development pipeline, 49 percent of which is already pre-let, means that we are likely to see further rental growth going forward."
Leeds has already seen top rents reach £30 per sq ft (£323 per sq m), up from £27.50 (£296 per sq m), in the first half of the year, following Burberry taking 46,000 sq ft (4,273 sq m) at Six Queen Street. Savills anticipates that Bristol is set to see the strongest top rental growth over the next 18 months, hitting £33.50 per sq ft (£360 per sq m) by the end of 2018, an 18 percent increase on the current top rent of £28.50 (£307 per sq m).
Gardiner adds: "Whilst take-up fell in the first half of the year, the outlook for the rest of 2017 is looking very encouraging. There are still a number of large unfulfilled requirements across the country and we hope that this will encourage further speculative development to cater for the high level of ongoing occupier demand."