November 9, 2016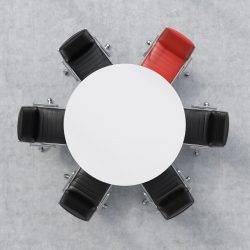 Ethnic minority representation in the Boardrooms across the FTSE 100 and 250 is disproportionately low and does not reflect the ethnic diversity of either the UK or the stakeholders they seek to engage and represent; a new industry-led review has revealed. Given the fact that the UK will be the most diverse country in Western Europe by 2051, with over 30 percent of the population expected to be comprised of people from ethnic minority or migrant backgrounds, each FTSE 100 Board should have at least one director of colour by 2021, and each FTSE 250 Board by 2024. These are the main recommendations of the Parker Review report, Beyond One by '21 which found that out of 1,087 director positions in the FTSE 100, only 8 percent of positions are held by directors of colour, of which 1.5 percent are UK citizens, despite the fact that 14 percent of the total UK population is from a non-white ethnic group (up from 2 percent in 1971).
Seven companies account for over one-third of directors of colour in the FTSE 100, whilst 53 of the FTSE 100 do not have any directors of colour at all. Beyond One by '21 which was undertaken in March 2016 by Dr. Doyin Atewologun of Queen Mary University of London, and Visiting Fellow of Cranfield School of Management notes that the UK population and its workforce has changed dramatically over the past 40 years and will continue to do so.
Sir John Parker, who was appointed in 2015 to chair the industry-led review, said: "Many business leaders would agree that Boards that embrace gender and ethnic diversity benefit in their decision making, by drawing on an array of skills, experience and diverse views. We hope the recommendations made for consultation, will heighten awareness of the growing pool of talent in the ethnic community, and help to strengthen Boardrooms across the UK and keep corporate Britain at the forefront of global business."
The Review makes a series of recommendations for consideration, to better prepare UK companies for the long-term and help to continue their standing as global leaders
It goes on to state that companies that do not meet Board composition recommendations by the relevant date should disclose in their annual report why they have not been able to achieve compliance.
Sir John added: "This is not an exercise of tokenism; the recommendations are underpinned by strong industrial logic and the need for UK companies to be competitive in the increasingly challenging global marketplace."
Key commercial drivers for increasing ethnic diversity on UK Boards are cited in the report, including: avoiding "Group-Think", enhancing brand value and reputation, improving access to top talent and achieving a better understanding of the global supply chain.
Sir John concludes: "I trust Boards will see our recommendations as business friendly, reminding us of our need to continue to earn our licence to operate in society, and as an initiative to help UK companies to remain global leaders over the long-term.
"We believe firmly that UK companies will only achieve their most insightful and effective leadership, and be best prepared to compete in the global economic community, being led by a Board of directors that is comprised of both men and women, drawn from an appropriate range of ethnicities, who are capable of appreciating the impact of globalisation and diversity in all its forms across their organisation."
A consultation period will now open for comments to be taken. A report containing the final recommendations and findings of the Review will be published in 2017.