June 24, 2020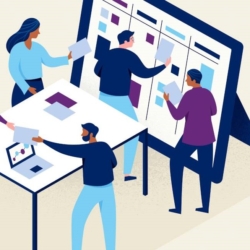 Organisations that favour agile working and make strategic investments in human capital during the coronavirus crisis will be best positioned to gain market share and overtake competitors, according to a new Talent Trends report released by Randstad Sourceright.
"Talent Trends, COVID-19 & the future of work," which draws from a global survey of more than 800 human capital and C-suite leaders across 17 markets, suggests which trends will be key for companies to thrive in a post COVID-19 world. These include: the creation of an agile workforce, utilisation of talent analytics, adoption of digital workflows, managing the employer brand, and investment in HR technology and reskilling programs.
"COVID-19 has had an enormous and unexpected impact on the world's health and economy,"
Rebecca Henderson, CEO of Randstad Global Businesses said "Perhaps the most important lesson to be learned from a business perspective is that human capital and business leaders need to expect the unexpected. The only way to be able to thrive when crisis hits, and subsequently when things stabilise, is to be agile; agile in business strategy, workforce strategy, employee reskilling strategy and tech strategy. That mindset applies both to organisations that faced unprecedented demand during the pandemic as well as companies whose business came to a grinding halt as the economy slowed."
The new Talent Trends report also claims that organisations are increasingly using data and technology to predict needs within their business and fill talent gaps quickly. Nearly half (47 percent) of respondents said they were spending more on predictive talent analytics, and 64 percent indicated that they were already investing significantly or moderately on analytics capabilities. A vast majority (81 percent) viewed analytics as critical in their ability to acquire talent – a sentiment that has been steadily rising since 2016.
"Companies will have to prepare their workforces to adapt to unpredictable market conditions in the future," said Cindy Keaveney, Chief People Officer at Randstad Sourceright. "To do so will require embracing HR technologies that provide greater insight and the flexibility to deploy talent quickly based on demand and market factors."
The report suggests that companies are embracing this change. Human capital leaders were less fearful that digital transformation was moving too fast (45 percent compared to 60 percent in 2019).
Technology can also aid in post-pandemic recruitment, particularly in competitive sectors like healthcare and software development, where demand is high and talent may be scarce.
Additionally, 80 percent of human capital and C-suite leaders surveyed said they plan to enhance their talent experience in 2020, with 49 percent investing in candidate assessment tools and half buying candidate relationship management (CRM) platforms. Even before the crisis, 93 percent of leaders viewed a positive talent experience as crucial to attracting top talent.