November 4, 2022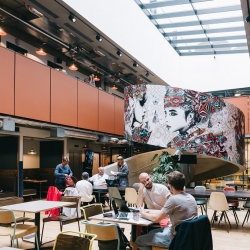 Europe's real estate leaders have set out a long-term vision for the industry. In this scenario the most successful firms have adopted 'responsible capitalism,' the user is the centre of attention, the cycle of demolition and development has been broken, mixed-use is the norm and multi-disciplinary and in-house teams deliver space as a service across a range of sectors. Emerging Trends in Real Estate Europe 2023, the twentieth annual survey of European real estate sector leaders' expectations by the Urban Land Institute (ULI) and PwC, has looked beyond the year ahead at the trends shaping the industry over the next two decades. This report captures the views of over 900 sector leaders from across Europe.
'Responsible capitalism' is seen as critical to successful long term organisational transformation. Asked about the factors determining success, 93 percent of respondents selected running a socially and environmentally responsible business, closely followed by 87 percent concerned with creating social impact alongside financial return.
Expanding its focus from operational carbon emissions to also include embodied carbon, the industry will be forced to break the cycle of demolition and rebuilding. Greening the existing stock will require vast capital expenditure and needs to happen swiftly to meet climate goals. Both equity and debt have a role to play in the transition to responsible capitalism, incentivising the "manage-to-green" retrofit challenge and the creation of social impact.
Pressure to incorporate social impact is predicted to grow as public sector balance sheets become increasingly stretched. In fact it seems that real estate is transforming into a service industry that will have to think much harder about a building's purpose and the objectives of the customer.  Property companies embracing 'responsible capitalism' will become more involved in providing social infrastructure, public realm, healthcare and community spaces and in addressing loneliness, growing inequality and ageing populations. Stakeholder-anchored governance models are a key element.
Technology was ranked by respondents as the 4th major catalyst of change in real estate over the coming 20 years. It will help master the challenge of better understanding the customer by harvesting data from personal devices. Creation of value here will depend partly on connecting the digital with the physical environment to meet customers' changing needs.
Occupier demand for flexibility will place pressure on the longevity and nature of a property's income stream and there will be a significant impact on valuation. Property companies will be required to be operational in nature, bringing functions in-house to drive efficiency and provide a more streamlined customer experience. Changing customer demands were ranked by respondents as the 3rd major catalyst of change in real estate over the coming 20 years.
Industry leaders recognise that companies will need to embrace greater diversity alongside increased skill sets. The idea that diversity is vital for success is already taking root and many are optimistic of reaping rewards by 2043.
According to Sophie Chick, head of research for ULI Europe, "For the real estate industry to be successful over the long term, it needs to step up from an operational and reporting ESG focus to an all-stakeholder model that fully aligns and integrates the interests of the planet and people with a company's profitability. This requires a 360-degree perspective on the built environment, addressing the needs of the users and community and puts the customer at the centre of attention supported by technology and the inclusion of new skills and disciplines."
Angus Johnston, UK and EMEA Real Estate Leader at PwC UK, says: "We've seen a complete value shift over the last 20 years with structural changes accelerated by many issues, not least Covid and supply chains and labour mobility issues.
"At a time when property professionals are trying to catch up on delayed developments or push repurposing initiatives there is a general feeling of "wait and see". For example within the office sector, some see a future of flexible, prime assets, while others see an inevitable contraction in overall demand due to continuation of hybrid working. Green shoots abound however, with the drive for income seeing the industry increasingly look to operational asset types highlighting the compelling fundamentals of data centres, new energy infrastructure and life sciences.
"Finally, and perhaps most importantly, the critical importance of ESG, a matter now crystallised in the wake of the pandemic, has seen this issue rise up the agenda and despite the obvious challenges, attitudes remain bullish.  Overall we are seeing a sector in flux and, despite evident challenges, it's clear that the industry is working to surmount these issues."