February 19, 2016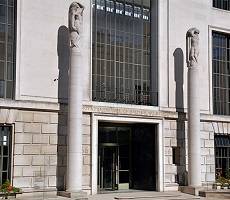 The Royal Institute of British Architects (RIBA) has launched an open consultation on the future use of its landmark Art Deco HQ building in central London. The first part of the consultation strategy is an online survey, to be followed by focus group sessions to gather more detail. RIBA Client Advisor, Sarah Williams said: "This survey is the start of a detailed process which will include defining the role that 66 Portland Place plays in the RIBA's long term vision and values. Our detailed consultation will gather views and ideas from our members, staff and other users of the building including visitors, neighbours, meeting room clients, cultural partners, sponsors and patrons.I encourage everyone to participate to help us shape the use of this important building for the next 80 years." Click here to participate in the survey and learn more about the consultation for 66 Portland Place.
66 Portland Place is open to the public and RIBA members alike and is home to the British Architectural Library, Architecture Gallery, RIBA Bookshop, President's Office, RIBA Council Chamber, first floor Bistro and ground floor Café/Bar and has a number of dedicated spaces available for private hire events and conferences, including the Jarvis Auditorium and the Florence Hall. In 2015 RIBA's administrative staff relocated to modern office space at 76 Portland Place.
Designed by George Grey Wornum, the winner of the competition to design the new headquarters for the RIBA, building work commenced in mid-1933 and was completed in time for RIBA's 100th anniversary, enabling a move out of the overcrowded conditions at the former headquarters, 9 Conduit Street, London.
At a time of heated debate about what architectural style we should be using and during an economic downturn, Wornum's building opened on time and on a reduced budget. The feedback was positive. He had successfully combined Classical and Modernist elements, and provided the institute and its members a completed building fit for purpose and adaptable to changing needs.
Wornum worked with a range of artists and craftsmen to create the decoration in the interiors and on the facade. Many of these details carry symbolic significance, for example the main entrance is flanked by two bronze doors depicting 'London's river and its buildings'. There are also references to the British Empire, reflecting the idea that in 1934 the RIBA was a focal point for architecture in the Empire. In 1970 the building was Grade II* listed, one of the first 'modern' buildings to be listed to recognise its unique architectural qualities.
The six storey, steel framed building faced in Portland stone (the two upper floors were added in 1958) contains a series of spaces which vary in size and function. The building survived World War II unscathed and has only experienced minor modifications since it was extended in 1958. The most recent change has been the creation of the Architecture Gallery on the ground floor, opened in 2014.