November 2, 2017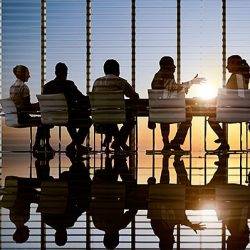 Banking and finance companies within the FTSE 100 have increased gender and ethnic diversity at board level, but there remains a question over whether minorities can break through the glass ceiling, as many of the top roles in banking and finance companies (Chair, CEO & CFO) remain a closed shop for ethnic minority and female leaders. This is according to a new study from Green Park which claims the leadership pipeline, supplying the highest tier of management in FTSE 100 banking and finance companies, now features the highest level of ethnic minority talent in four years, including 15 percent of professionals with a non-white background compared with 5 percent of leadership pipelines for FTSE 100 companies overall and 6.5 percent in 2014. The banking and finance sector has also met the target set by Lord Davies that 25 percent of board members should be female. However, this has been updated by the Hampton-Alexander Review to a target of 33 percent by 2020, which suggests that banking and finance companies will still need to do more to increase the proportion of female leaders in their leadership pipelines.
There has been a minor improvement in the proportion of banking and finance board members with a non-white ethnic background from 8.3 percent (31 people) in 2014 to 8.8 percent (33 people) in this year's report. Yet despite this, boards of banking and finance companies in the FTSE 100 are still not representative of the UK population, which is 87 percent white and 13 percent non-white.
Positive advancement
Green Park's analysis also looked at the firms that were out performing the rest of the FTSE100 in terms of diversity. Three in 10 of the top performing FTSE 100 companies in Green Park's rankings for gender and ethnic diversity are from the banking and finance sector: Standard Chartered plc, Old Mutual Plc and Royal Bank of Scotland Group plc.

Table one: Top 10 FTSE companies measured by diversity of leadership
| | | |
| --- | --- | --- |
|  Rank | Company | Sector |
| 1 | InterContinental Hotels Group plc | Leisure |
| 2 | Standard Chartered plc | Banking and Finance |
| 3 | Unilever plc | Consumer Goods |
| 4 | Randgold Resources | Natural Resources |
| 5 | Diageo plc | Consumer Goods |
| 6 | Old Mutual Plc | Banking and Finance |
| 7 | Vodafone Group plc | Telecoms |
| 8 | Next plc | Retailing |
| 9 | Informa plc | Professional and Support Services |
| 10 | Royal Bank of Scotland Group plc | Banking and Finance |
Source: Green Park Leadership 10,000 report, 2017
Baroness McGregor-Smith CBE, Vice-chair of DRIVE (Green Park's social enterprise) and author of 'Race in the workplace: The McGregor-Smith review' commented: "Despite the Leadership 10,000 report showing that banking and finance companies in the FTSE100 can still do more to improve proportional diversity in their current and future leadership cohorts, it also provides actionable baseline data for the index to improve their leadership's diversity, moving them closer to achieving the diversity dividend.
Raj Tulsiani, CEO of Green Park, said: "The banking and finance sector has been through difficult times and faces unprecedented competition from new market entrants and technological change. As a sector, it needs to rebuild trust with customers and demonstrate that it understands what they need from their financial services providers. Failing to recruit from the widest possible talent pools will hardly help them to succeed in those endeavours."
Green Park sets out three recommendations within its report:
Given the UK's desire to increase trade with non-EU countries, the government should increase its support for initiatives that aim to raise the number of ethnic minority corporate leaders in the UK from East Asian and African backgrounds
Boards should give renewed attention to the objective of diversity in succession planning. This responsibility should sit with the Chairman and not be delegated
Major shareholders should insist that their Nomination Committees submit annual accounts of their efforts to recruit board members who are not white and male
Overall findings from the report
The Green Park Leadership 10,000 report analyses the backgrounds of those holding the top 20 leadership roles within FTSE100 companies including CEOs, CFOs and Chairmen. It also analyses the next 100 senior roles to identify the future management pipeline. It reveals that despite a net average increase in diversity over last year's report, there remains a glass ceiling stopping talented minority candidates reaching the upper echelons of management and worryingly, previous progress and momentum in some sectors are starting to reverse.
Gender diversity
There has been an increase of one in the number of female Chairmen and CEOs within the FTSE 100 since Green Park's previous report. There is a small increase of 2.3 percent in the number of women at the Top 20 level and 1.1 percent at the Top 100 level. However, the number of industries where gender diversity is regressing is now outweighing those that are improving with eight moving backwards at Top100 level and four moving backwards at Top20 level. The number of female CFOs has remained stagnant and the percentage of women holding top jobs across the index is still just 6 percent. Three quarters (76 percent) of the total employees in top 20 positions across the FTSE 100 who graduated from a Russell Group university are female while 70 percent of leaders who graduated from an Ivy League university are female. Overall, this means that women are three times more likely to need a qualification from a prestigious university to gain a board position in the UK than men.
Ethnic diversity
Taking the top 10,000 roles as a whole, the pipeline to senior positions for ethnic minorities is being diversified but only in specific industries. There has been an increase of 451 (102 percent) ethnic minority executives throughout the FTSE 100 leadership this year, a collective increase of 0.5 percent and 5 percent at Top 20 and Top 100 level respectively. Analysis of industrial sectors shows that telecoms, health and banking and finance are attracting and promoting ethnic minority talent in increasing numbers, with telecoms showing a 20.1 percent increase in minority leaders at Top 100 level due to 52 new hires at BT and Vodafone.
For more information visit https://www.gov.uk/government/publications/race-in-the-workplace-the-mcgregor-smith-review