February 8, 2023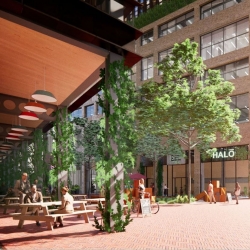 With a crucial vote fast approaching on the EU's key piece of building legislation, a coalition representing 35 organisations is calling on politicians to seize a once-in-a-generation opportunity to eliminate carbon emissions from Europe's building stock. Europe's buildings account for around 40 percent of energy consumption and 36 percent of CO2 emissions. Currently, EU policy only addresses the operational emissions of buildings but to support total decarbonisation of the EU building stock, policy must evolve to cover both operational and embodied emissions, known as Whole Life Carbon. Without addressing both sources of emissions it is inconceivable that the EU will be able to achieve its climate targets.
The WorldGBC has convened a coalition of 35 built environment stakeholder groups, representing over 5,000 organisations from across the building value chain, to call for high level ambition as Parliamentary negotiations on the Energy Performance of Building Directive (EPBD) enter their final stage.
The coalition has published an open letter to Members of the European Parliament (MEPs) in the Committee on Industry, Research and Energy (ITRE) to support an ambitious revision of the EPBD in the upcoming vote this Thursday 9 February and support measures that will:
Accelerate building renovation and address energy use and efficiency via the introduction of Minimum Energy Performance Standards and harmonisation of Energy Performance Certificates.
Address total lifecycle emissions of buildings, including both operational and embodied emissions by supporting provisions regarding Whole Life Carbon reporting, targets, and thresholds.
The coalition's message is clear – by supporting a high level of ambition MEPs will deliver a more prosperous future for all EU citizens. This is not only limited to the  climate benefits of more sustainable buildings, but the social and economic benefits of tackling energy poverty and the creation of up to 3.3 million green jobs annually, whilst boosting local communities.
This letter comes amid growing political and industry support for policy that tackles the Whole Life Carbon impact of buildings.
In 2022 WorldGBC launched an EU Whole Life Carbon Roadmap for the building sector, with the support of a coalition of over 35 leading industry bodies. This has been complemented by national Whole Life Carbon roadmaps developed by ten Green Building Councils across Europe, with input from over 600 experts and organisations.
These EU and national roadmaps were developed as part of the #BuildingLife project, which has also seen over 150 leaders publicly declare their commitment to policy addressing Whole Life Carbon in buildings, including nine Members of European Parliament.
"With this open letter we are witnessing a clear consensus," said Cristina Gamboa, CEO, WorldGBC." Europe's building sector is ready for a truly ambitious revision of the Energy Performance of Buildings Directive. Buildings are a key agent of change as Europe undergoes the transition to a decarbonised society. This is ever more important as Europe grapples with geopolitical uncertainties undermining energy security, and price rises driving a cost-of-living crisis.
"Politicians must seize the opportunity to support the transition away from inefficient practices, increase the EU's autonomy and provide energy security for the most vulnerable households, whilst creating green jobs and boosting local economies. Our sector is ready for bolder action, and Members of European Parliament should be too."
Tina Paillet, RICS President Elect added: "The EPBD is a critical piece of EU legislation in the combat against climate change and for RICS Europe its revision is an opportunity not to be missed.
"RICS encourages the EU to ensure that new buildings and refurbishments will be required to be both energy and carbon efficient over their whole life cycles, as well as contribute to the uptake of the circular economy in the construction sector. The RICS Whole Life Carbon Assessment Professional Statement provides a standard approach for assessing WLC across a project lifecycle."