September 12, 2023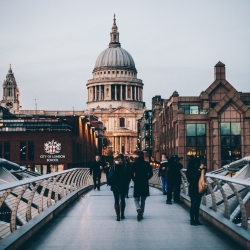 Shanghai Design Week has announced details of its 'Design to Wonderland' event, being staged in London for the first time later this month. The event organisers hope that the inaugural event will serve as a  global platform to spotlight Chinese innovation across a number of creative sectors, including architecture, art, fashion, and beauty. Taking place from 16th – 29th September, China Exchange Centre will host the event, a collaboration between Shanghai Design Week and the London Design Festival. As well as being a celebration of Chinese creativity, D2W is planned to serve as 'a bridge' between the design industries of China and the UK. London Design Festival is also hosting an event in collaboration with Insight, details of which can be found here.
Confirmed guests for the event include figures such as Neil McConnon, Director of International Partnerships at Tate, Ben Evans, CEO of the London Design Festival and Janet Coyle the Managing Director of Business Growth, London & Partners. The London event is planned to become the main networking event for London creatives, designers, artists and brands as they seek to foster connections and investment opportunities in Shanghai.
The events keynote speaker and co-founder of the London Design Festival Ben Evans, says, "the extraordinary talent that has emerged through the capital has established London as a global design leader. Shanghai Design Week as part of the London Design Festival brings some of the best and the brightest design innovators from China to our doorstep and the start of an exciting collaboration across two leading design cities.".
The exhibition will feature 33 multi-disciplinary design brands from Shanghai, presenting a total of 168 exhibits. Visitors will be immersed in three distinctive thematic areas:
?? FRESH: An exhibition space dedicated to sustainable design, offering fresh perspectives and innovative technologies.
?? D STAND: This space integrates immersive brand and retail experiences, bringing together leading brands and products that exemplify great design. It facilitates connections between brands.
?? DONGXI: Focused on artisanship, Dongxi presents contemporary, innovative representations of Chinese culture and aesthetics in design. The exhibits, curated by COMO, showcase Chinese artistry in new and inspiring ways.
Design to Wonderland will also feature a presentation from Shanghai Fashion Week (SHFW) titled "ULIO by SHFW," spotlighting sustainability within the fashion industry and the innovative work of Chinese fashion designers.