March 31, 2015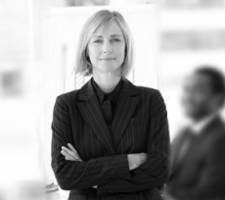 Research from the Government, released last week, found that women now accounted for 23.5 percent of FTSE100 board members, up from 12.5 per cent in 2011. The target is 25 per cent by the end of this year, meaning that another 17 women need to be appointed. However the research showed that small companies are less diverse at the top, with woman accounting for 18 percent of directors of FTSE250 boards. As Chairman of a company which employs 220 people, I believe that unleashing the potential of women in the business is an excellent way to grow and develop organisations. The female perspective is very powerful in every issue within a business. It adds enormous value to clients, can often save money by offering a different way of doing things and creates a better working environment.
We currently have two women and seven men on the board and are now actively taking steps to encourage more women within our business to reach board level. To this end we've set up Women in Fourfront, a 10-month programme of group workshops and individual coaching, aimed at key women within the business.
The programme, which was set up in May 2014, concludes this week. A second programme, aimed at a new group of women, launches this summer.
So far, Women in Fourfront, which has seen 15 female Fourfronters take part, has had a major impact on the business. I have noticed a significant change in how some of the women in our business have performed and interact with the wider business as a result of the programme. We have seen our second woman board director and other promotions across the business.
The programme, which was run by external provider Career Savvy Women, included four workshops focusing on confidence, communications, contribution, credibility, and career success. This was supported by personal profiling, individual coaching sessions, support creating a development plan and a 360 degree feedback session.
The participants will now receive a mentor to help to further develop their skills, with the aim of mentoring the 2016 Women in Fourfront programme. As a result of this initiative, action learning groups are being set up in the business with the aim of encouraging communication and problem-solving across the group.
Working in a very male-dominated industry can be daunting. We recognised that by embracing women and offering them support to develop their skills and play on their strength is a win-win situation. I'd encourage other small and medium sized businesses to follow our example and help encourage more women onto their boards.
_________________________________

Aki Stamatis joined commercial interiors specialist Fourfront Group in 2006 after spending 25 years in commercial interiors. As Chairman he plays a key, integrating role in setting the strategy, direction and development of Fourfront Group, as well as overseeing the on-going development of The Fourfront Academy.