November 12, 2020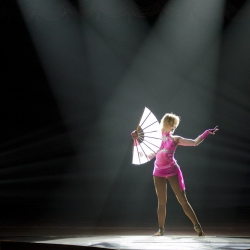 Dr Brené Brown is one of those individuals whom I find myself channelling, particularly during challenging times. Her views on the power of vulnerability and her call to be brave and 'step into the arena' have shaped my career. In a crisis, we need to be courageous and ready for the fight. It's not just about rolling with the punches. It's about knowing that it's ok to get knocked down, because there will be someone to help you get back up.  
When I was promoted to MD of Business Moves Group in 2008, I was quite young and my way of dealing with a difficult situation was to be tougher. I thought it would foster respect and show I had the strength to get things done no matter what. I had it in my head that to be a good leader you had to fly solo and push forward. While that's partly true, it took me a while to realise that there's more to it than that. Successful leaders are comfortable in their own skin. They recognise that being true to themselves, and inspiring the same in others, is a strength, not a weakness.  
And so over the years I've realised that being courageous doesn't mean you have to be a lone wolf. Quite the contrary. Working as a pack means you can fuel each other's energy, determination, motivation and hunger for success. Only when you're true to yourself can you hope to take people on a journey with you and share ideas and fortunes. That's what the workplace world needs right now.  
It's essential that workplace leaders and agents of change effectively communicate and offer support, encouragement and empathy
As we enter our umpteenth month of home-working, we have to consider the next big challenge which, in my opinion, concerns motivation. How do you keep motivated, or motivate others, when you're not in a physical room with everyone? And how do you engage and empower people to ensure motivation and momentum doesn't dip, particularly when there's still so much uncertainty?   
I believe it's about being more visible and present. Throughout lockdown, the BMG team would begin the day with a call to one of their colleagues, just to check in and see how they were doing. Now, half a year later, we still encourage those informal check ins across the team, because you never know when somebody's struggling, and a call from a colleague can make all the difference. 
Setting some kind of routine or giving yourself a reason to be present – that to me is the key to banishing that feeling of isolation that can come with home-working. Encouraging your teammates to develop rituals of their own may help overcome any feelings of apathy that sometimes accompany the lack of buzz that one used to enjoy in the office.  
We're working with our clients on their back to work plans. When the time comes, there will be mixed reactions. Some will be desperate to return. Others will be nervous, anxious or unsettled. For some, returning to a central place of work – whenever that time comes – may feel like stepping into the arena. And so it's essential that workplace leaders and agents of change effectively communicate and offer support, encouragement and empathy along the way.  
While we may get knocked down from time to time, we have to find the strength to get back up. And there's strength in numbers. So, let's be brave and show up so we're ready for the next round.  
This article is drawn from the forthcoming issue of IN Magazine. 
Image by IgorSuassuna