January 4, 2021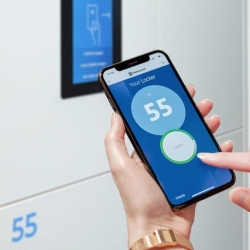 The way in which we work has changed in a way no one would have ever predicted as a result of last year's pandemic. Consequently, many businesses have chosen to adopt to an agile working practise. This coupled with the rapid evolution of the hybrid workplace has allowed more employees than ever the flexibility to work from home, many people however still crave that interaction with colleagues, and the 'corridor conversations' that cannot be replicated via Zoom and can only happen with workplace collaboration.
With a vaccination now in circulation, companies will be looking to re-introduce their employees back into the office, and although homeworking is here to stay, our expectations of our working environment have permanently changed. Many companies have re-designed their office spaces completely and have chosen to adopt a hybrid or agile way of working. Whilst others are introducing smart technologies into the office as a way of ensuring that their workforce can work flexibly and effectively.
What is 'Smart'?
Smart technologies have been evolving over a long period of time but are now becoming ingrained as part of a company culture. What does the term 'smart' actually mean though?
The term "smart" originally comes from the acronym "Self-Monitoring, Analysis and Reporting Technology". It has now become widely known as "smart!  With smart technologies, we now have the ability to collect, store, analyse and distribute vast amounts of data. Crucially, this means that not only can we observe, monitor and control various processes, companies can make business improvements based on real facts and figures.
Smart Storage Gives Smart Insights
Companies have always relied on some form of data to help them make big business decisions. Now, in these unprecedented times, data is more important than ever before. Not only can it help a business to grow and adapt where necessary, it can also help us safeguard the workplace, and ensure that storage facilities and corporate real-estate is being used efficiently. This is where Your Workspace and their flagship product, Simplicity, can help!
Simplicity Smart Lockers
Your Workspace are matter experts in all things 'smart' and helping businesses transition to an agile way of working through their innovative furniture and smart storage solutions. Simplicity smart lockers are the next generation of storage facilities and offer a whole host of smart features and benefits.
Better Building Analysis
During these unsettling economic times, businesses want to cut back on unnecessary costs, making sure that any changes to the workplace are beneficial, with a clear return on investment. Existing data collected from Your Workspace clients show that although 95% of all available lockers are always occupied, sometimes as little as 30% are accessed on a regular basis.
By installing a smart locker system, you are already eliminating the on-going costs associated with lost locker keys, access issues and the time it takes to manage such things.
The user-friendly software within the locker units provide management teams with full visibility of locker usage. You can see how often your lockers are being used to ascertain if the facilities are being used cost-effectively, with the right locker to user ration in place.
The data may also highlight that certain lockers need to be re-allocated elsewhere within the company, which can free up floor space for other business uses or highlight the need to dissolve the area entirely.
Enhancing the Employee Experience
Today's employee wants a simple, reliable, and functional solution that improves both their user experience and enhances their ability to work effectively. Simplicity can work with a building access card or via the free mobile app, which can be downloaded to any smart phone, meaning users can book a locker anywhere, any time. Each locker unit also comes with a USB charging port inside as standard, smart devices such as mobile phones, even Airpods can be charged in a safe and secure location.
Safer with Simplicity
To satisfy government guidelines, the software allows you to monitor who is using the lockers and keep a record of the date, time, locker number and locker location, in the event you need to notify other employees of a COVID related illness.
Facilities teams can also keep track of when a locker has been used throughout the day so that the locker can be blocked, the cleaning teams can be notified, and the locker can be sanitised and released back into the system.
Sample Simplicity Smart Lockers  
Simplicity smart lockers provide a valuable alteration to the workplace and helps business owners looking for smart workplace solutions to aid the agile and safe return of their staff to the office. Your Workspace are dedicated to supporting businesses through these turbulent times. They have decided to offer businesses the chance to test their smart lockers through an innovative and unique trial scheme aptly named 'Sample Simplicity '. This one-of-a-kind concept allows new customers to experience the full features and benefits Simplicity smart lockers have to offer, for up to a 3-month period, with no commitment to placing an order at the end of the trial. A limited number of test units have been manufactured for this scheme; therefore, new clients will need to meet certain criteria to be put forward to take part.
How the Trial Works
Your Workspace will install a bank of Simplicity smart lockers (up to 20) to trial for up to a 3-month period
Each company will be allocated an Account Manager for the duration of the trial who will help set aims and goals the organisation would like to achieve
Simplicity smart lockers will allow you to generate reports around the smart locker usage, which will be analysed with the help of the dedicated Account Manager
At the end of the trial the company can then decide to keep the lockers and place an order for more, or Your Workspace will come and remove them
Interested in Sampling Simplicity?