March 2, 2021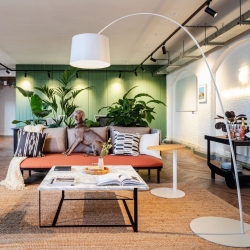 The Collective cements its commitment to the UK creative industry with the opening of new offices and showroom in iconic Folkestone building 'The Glassworks Building', and support emerging talent by appointing newly founded Studio Morelli for their debut interior project.
Founded in 2014, The Collective are committed to providing sustainable, contemporary furniture solutions for commercial interiors, and are passionately dedicated to creating commerce and trade opportunities for the local community. London based design firm Studio Morelli were appointed to design the interiors of the new offices – the debut project for this recently opened practice. Founder Matt Morelli, has celebrated an extensive career in design in both Australia and the UK, working for global organisations such as WeWork and TP Bennett, delivering exemplary design solutions worldwide.
"The Collective's new home is all about its location – it is really a space that highlights the architecture of the building along with Folkestone's unique culture and community. The space needed to do a lot – it needed to be somewhere not only to work but socialise, educate and entertain and somewhere that would embrace a sense of community" says Matt from Studio Morelli. "The space is curated to showcase products from The Collective's portfolio – British designed and manufactured furniture and acoustic panels made from recycled plastic. We have also used emerging designers that align with The Collective's commitment to the community and independent businesses which is part of their ethos, such as locally sourced art (Ali Hodgkinson Fogg) and UK manufactured floor covering (The Clerkenwell Rug Studio).
The Glassworks Building, the new home of the Collective, was specifically selected to contribute to regional growth, providing both tenancy and employment to this coastal town. Originally a glass making factory, the 33,000 sq.ft. serviced co-working building is owned by Creative Folkestone and located within the Folkestone Creative Quarter – a playground for digital and creative businesses. An iconic architectural Folkestone highlight, the building offers high ceilings and original features, providing light flooded workspaces throughout.
'As a business we are fortunate to be part of the Folkestone community, and the wealth of creativity it offers', says Lucy Abraham, co-founder of The Collective. 'After outgrowing our previous office space, we were instantly attracted to this iconic building with its heritage design features and warm and inviting feel. We look forward to welcoming our clients and colleagues from London and all over the United Kingdom to experience this special place for themselves'.
The Collective now look forward to the new chapter of the business in this exciting creative hub at The Glassworks Building. With participation in the regional apprenticeship scheme for young employment opportunities, not forgetting regular deliveries of locally sourced seasonal fruit, vegetables, bread plus other products to The Collective office team, the organisation continues its devotion to contributing to regional and national design and community.