September 21, 2021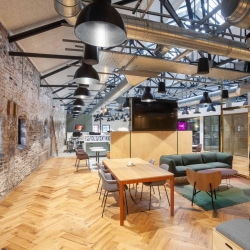 Predicting behaviours in the commercial property market is never an easy thing, yet we know that the pandemic has drastically altered this market. Whilst some players have advocated 'the end is nigh' for all office space, research shows a different picture emerging – namely the office space as we know it is evolving into something different. The impact of prolonged uncertainty has fuelled change.  However, there are other forces at work shaping a brighter and more varied future for office space.
In the first quarter of 2020, London was in the top three destinations for office real estate investment across Europe. However after Covid-19 hit and the nation was forced to stay in, resulting in the shift to work from home, leasing activity for office real estate understandably decreased dramatically. In London alone, take-ups fell from 1.34m square feet to less than 0.6m between the first and fourth quarter of 2020. And, after the third lockdown, the return to the office was once again halted creating a prolonged uncertainty around the business climate and in turn the demand for office space.
An increasing number of tenants deferred office moves and lease extensions, and started looking for short-term, flexible accommodation until economic conditions became more certain. This shift has therefore seen the flexible and serviced office market expand rapidly, underpinning the growing demand for a broader office market.
As we move through 2021 and the easing of lockdown restrictions, many businesses were able to return to the office. This resulted in a slow but sure uptick in the demand for offices, as space under offer in the London market rose by over 50% across Q2 to 2.3m square feet- which was the highest it had been since Q1 2020. This momentum is predicted to continue throughout the second half of 2021.
It is unclear though that the office real estate market will ever return to what it was before the pandemic. Not only must we consider the fact that distressed asset sales may not appear on the radar simultaneously with the start of a recession, so we may be yet to see the impact of Covid-19 in its entirety; but also that the office space market will depend heavily on the working standard that arises from 2021.
A new focus
Also, with the change in Government planning policies and the loss of Permitted Development rights for assets over 1,500 square foot underpinning asset purchases, many buildings are remaining office buildings even though they would now be better suited to a conversion given that environmental, social and governance (ESG) issues have now become a priority for investors and more purpose focussed/ niche buildings are required for office space.
Simply studying the increase and/or decline of uptakes does not paint the full picture though. A further significant change we are seeing in the office market post-pandemic is the move away from major cities. The suburbs are becoming cool again- boasting better air quality, more space and less commuting. Along with this, it is also far more cost effective for occupiers to move out of the city with London prices set at around £80 per square foot, compared to maximum rents of £40 per square foot for Grade A buildings across the South East.
And although there will always be a need for well positioned office buildings in London, the pandemic has brought ESG, mental health and healthy work life balances into the spotlight. Occupiers are now willing to pay top rent for Grade A and modernised buildings to hold employee satisfaction and meet net zero carbon targets.
Better offices
Offices are becoming relaxed and collaborative spaces, where employee wellbeing and sustainability are the focus. More and more businesses are investing in offices that offer down time activities and eco-friendly solutions which encourage rest and creativity. So much so that the South East is already seeing significant investor interest in out-of-town business parks and modernised office spaces designed to reduce stress- with features being introduced such as multifunctional spaces, integrated technology, collaborative environments, open spaces and recreation and rest areas.
We can therefore predict that this uptick in office requirements will filter through to even higher take-up figures outside of London for the third and fourth quarters of 2021. Stats from an Avison Young South East offices report for Q2 2021 found that the South East saw a 10.2% increase in their office market between the first and second quarters of 2021. Take ups in the Q2 of 2021 in this area increased by a whopping 93.5% from Q2 2020 and office transactions for the first half of 2021 has reached £2.319bn – bear in mind that the same reading of this for the whole of 2020 totalled £2.465bn. This clearly shows an increase in investor confidence and appetite which can only be promising for the market.
If the last 18 months have taught us anything, it's that nothing is a sure thing and predictions for any market activity can never take into account all the possibilities or factors that may have influence on them. The pandemic has drastically changed the office real estate market, seemingly for the better and perhaps irrevocably.