July 18, 2022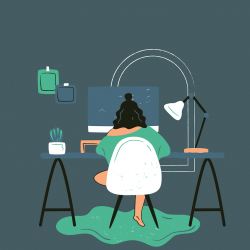 In our pre-, post-, and mid-pandemic worlds, the corporate workspace landscape underwent – and continues to undergo – a great many adaptations. It is changing out of necessity so firms can survive in a new present and future of work. The way we work had never evolved as much as it has in the past 2 years. It was dominated by strict schedules, physical meetings and on-site technology only. As time passed and technology evolved, the 9-to-5 in-office schedule remained, and teleworking, despite being possible, was extremely rare.
This workplace convention changed, seemingly from one day to the next, during the early months of 2020. With fear around the spread of the coronavirus and the subsequent need to have employees remain physically distanced from one another, employers in all industries across the globe were forced to embrace remote work.
In 2021 and 2022, as the pandemic became more manageable, employers were forced to reconcile their past history of office-centralized working with the new expectations of employees, who became attached to the flexibility that remote work gave them. As a result, hybrid working – the process of working partially in-office and partially remotely – became the next big thing in workplaces everywhere.
Now, with workplaces, employers, and employees having pivoted their scheduling dynamic so many times in the span of a few short years, a new study we commissioned argues that yet another workplace approach is gaining popularity as the ideal working environment: Asynchronous working.
The research found that half of office workers surveyed across the United Kingdom, France, Germany, Italy, Spain, and Poland want employers to offer the flexibility to work asynchronously, with two in five (42%) believing this is the future of work.
Over a third of people (35%) feel asynchronous working – which allows people on the same team to work at different times, in contrast to the traditional 9 to 5 – would result in more purposeful and less distracting communication. This brings greater flexibility and responsibility, freeing up time for more impactful work when employees are online or in the office at the same time.
Whilst three in five (61%) employees agree that asynchronous work would create a better work-life balance, the majority (58%) doesn't believe their company has the tools needed to enable asynchronous working, making them unfit for the future of work. Additionally, over half (55%) don't believe their employer would trust them to work the hours that suit them best, even under the provision of delivering results and meeting deadlines.
As the office continues to play an important role for employees, the survey uncovers almost two-thirds (58%) don't strongly agree their office is well-equipped with the technology tools & solutions to enable everyone to work at their best. Though one in three (31%) employees across Europe go into the office to use better technology, companies can do more to ensure their employees have access to all the right tools and solutions to be tech hub for useful software and hardware.
The findings indicate overall that the office plays an important role in the future of work. However, it should be used as a hub to encourage collaboration, with asynchronous work as a model to promote flexibility and work-life balance.
When thinking about the future of work, employees feel that having a "people-first" approach is most important (39%), as well as having the latest tools and technology to enable remote and flexible working (39%) and asynchronous working (35%). To succeed, businesses need to ensure they invest in the right technology tools but also align their policy to reflect the expectations of a modern office employee who wants to make the best of both the office environment and the flexibility of remote working.
Asynchronous work is a great opportunity for the future of work, creating a more efficient workplace and a healthier workforce. By combining greater worker autonomy and access to the latest technologies, companies can ensure they set their employees up for success. Businesses today have access to a wide range of support and technology solutions to ensure they are able to keep up with societal changes and new trends that influence the workplace.