June 8, 2021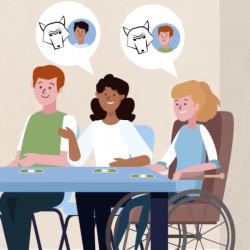 The future of work is neither here (at home) nor there (at the office). The hybrid post-pandemic model for the workplace is quickly coming into play, whereby employees work in the office for part of the week and log in from home for the rest, with staff rotating in and out, connecting virtually and in real life, all from various spots on the globe.  Even as restrictions ease, it's clear that work as we know it may never be the same. Full-time 9-5 commuting schedules are a thing of the past, but the practice of having the entire team conference together on Zoom from their couches is quickly ending as well.
So there is a new challenge afoot for office managers: How do you build a team when they are physically scattered and on alternating schedules? Bringing hybrid teams together can be daunting. Will employees who haven't been used to interacting the past year suddenly feel pressure to socialize? Will the conversations feel forced, and will a sense of "team" be difficult to attain?
Team-building, which creates loyalty and engagement and enhances productivity and commitment, needs to adapt for the future as well. Team-building games offer an elegant solution. Icebreakers can smooth strained social interactions with the power of laughter and even a dose of silliness. Managers should feel empowered to let their hair down a bit and be goofy and playful in these scenarios, as they will set the tone of the entire group.
The opportunities to connect virtually and tap into humour and levity with your hybrid teams are endless. Here are some of my favourite team-building activities:
Werewolf / Mafia
A virtual version of the social deduction game devised in the 1980's that models a conflict between two groups: the townspeople, and a group of werewolves. Each player is assigned an identity and everyone must close their eyes. Then, the werewolves are instructed to "awaken" (AKA, open their eyes) and decide silently which of the townspeople they will kill. The townspeople must then figure out who the werewolves are among them. It relies on wits, decision making and careful deception, but it's real secret is that it fuels tons of discussion. And when teams talk to each other, their bond builds. This YouTube video gives easy instructions, as well.
Virtual pub crawl
In the real world, we can get together for drinks. In the hybrid world, we can pour a drink in our kitchens and together log on to a series of pre-approved interesting websites (there are plenty of enticing options; Cool Things, which showcases interesting and fun gadgets is a fun one, as is Uncontacted Tribes, which features stunning video and photography of some of the world's most remote people), each in a 15-minute increment along with our coworkers. Together, we sip, discuss, and then move on to the next site.
We've created our own version of this at Mindspace team meetings. At the beginning of each one, a member opens with a recommendation of their choice that has piqued their interest, be it a website, a book, movie, campaign or even a concept. They share why they find it engaging which then triggers a 10-15 minute discussion. This provides an open platform for anyone to share their thoughts on a topic that isn't necessarily related to our company, setting the tone for an inviting and relaxed environment which is ideal for a meeting, especially for newcomers.
Pancakes versus waffles
One of the most important tasks of team building is helping a group learn to make decisions together. And that's precisely what this fun game does. Teams have to decide which of two choice items the world should keep if they had to choose one. Those items can be pancakes or waffles, or blue socks or red socks, etc. The key is in the argument, discussion and delivery. 
Of course, team building requires more than just fun and games. With a shift toward hybrid, time in the physical workspace becomes particularly valuable, as well. While virtual team-building events can be powerful tools for creating a feeling of community, employees will also want to maximize the in-person bonds they can only build while in the physical office for those handful of days each week. That means that workspace design, including components such as cheerful and engaging breakout rooms, conversation corners and office layouts that offer opportunities both for discussion and collaboration as well as quiet, individual work, are essential.
And don't forget the value of allowing all employees to maintain a little home fire in the office. The ability to have a desk you call your own, outfitted with photos of loved ones and providing a set space to drop your bag, goes a long way. So consider staking out individual spots for each employee, regardless of how many days a week they are each in the office in the future.
Optimal technology is key to make sure that teams' virtual interactions are equally smooth. IT will need to increase its emphasis on technology, and assets like remote workplace support and IT support should be a top priority. Security that keeps virtual workers' assets under proper lock and key is necessary, as is up to date hardware for all employees that can be easily transported to and from the office so there is no gap between in-office workdays and those completed at home.
With the right office design, a solid technological foundation and a healthy dose of humour and fun, your hybrid team will be off to an excellent post-pandemic start.