November 1, 2021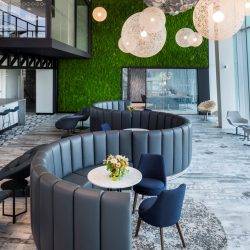 There are no prizes to be won for saying that the modern workplace is already markedly different from those we have known in recent decades. As remote and flexible working practices have become more common, the role of the office has already begun to evolve – the pace of change has been greatly accelerated by the pandemic, which has resulted in a rethink among many organisations about their real estate needs.
A recent study of UK businesses by Knight Frank revealed that 81% felt they need to implement a new workplace strategy, with 47% believing their real estate strategies will include a greater amount of flexible, serviced or coworking space, and 63% anticipating there being a greater focus on the design and specification of their offices.
To use a business cliché, there has been a 'paradigm shift'. Yes, co-working spaces run by big name operators had already proven successful, but primarily among startups and SMEs. Now bigger businesses are also reconsidering what they want and need from a workplace.
This change is perhaps best summed up by stating that, from here on, businesses will not assess the viability of workspaces purely on cost, location and the lease, but more on their ability to provide an exceptional tenant experience. Following the flexible working revolution, office buildings must be designed to empower creativity, productivity and inclusivity to give professionals a reason to venture to their local working hub. As I will come onto explain – technology is going to be absolutely essential in delivering this.
The need to connect and collaborate
There has been a great deal of speculation during the pandemic about the future of work. Will businesses embrace remote working on a full-time basis, will they steadily go back to exclusively working in an office, or will they adopt a hybrid model somewhere in between? Most studies would suggest the last option.
So, if employees are only travelling to an office once, twice or three times a week, what will this mean for businesses and their workplace needs? Primarily, it means that a workspace must be geared to maximising collaboration and connectivity on those days when people are on-site.
Moving forward, the office must provide opportunities for peer-to-peer collaboration. Despite being connected through technology, many employees are missing real connection: indeed, a recent survey found that social connections (45%), human contact (44%), and a clear separation between their work and home life (42%) were the three things former office workers missed the most during the extended period of remote work.
Why does office tech matter?
Commercial real estate (CRE) owners are now expected to facilitate interconnected environments, where employees can easily connect with their peers. Moreover, they need to offer tenants a stimulating, engaging and even inspiring experience that gives them everything they cannot when working remotely.
This will only be possible if physical workspace and modern technologies are interwoven. Indeed, readily accessible, easy-to-use digital platforms will be at the top of business leaders' checklists as they look for spaces that will reflect their internal culture and provide a healthy work environment.
Flexibility has become the name of the game, and landlords must be able to keep up with changing behaviours
Booking meeting rooms and desks at the tap of a button is just the beginning: tenants will be expecting to be able to explore sports facilities, browse and sign up for events and networking opportunities, report problems, shop online and more – all through an integrated, all-encompassing app.
Technology, then, can help a tenant squeeze maximum value from a workspace, enabling them to effortlessly navigate and make use of all the available facilities and partnerships on offer. And tech will also underpin communication.
By creating online platforms and apps to support, landlords can improve their own communication with tenants, as well as making it easy for tenants to speak to one another. Improving the landlord-tenant (or office manager-tenant) relationship is important – if a tenant can quickly highlight problems or suggestions to those running a workspace then their overall experience is likely to be improved.
For commercial landlords, implementing technology into their buildings has another distinct advantage: by collecting data points as tenants engage with their office space, they will be able to constantly re-evaluate and improve their building.
As we all know, flexibility has become the name of the game, and landlords must be able to keep up with changing behaviours. By tracking occupancy levels and engagement with different facilities and amenities throughout the building, landlords can optimise the design and use of space – not only to ensure maximum revenue, but to truly cater to the needs of occupiers.
Sophisticated apps will bolster the potential of hybrid working, keeping tenants and employees constantly connected to their office or wherever they are working. They are the digital bridge between the different locations people work, and the office buildings that offer this support are the ones that tenants will want to choose as their primary workspace.
Commercial landlords and operators must embrace the challenge
Digital-first office buildings are the future. Commercial landlords, or the people they entrust to operate their buildings, must adopt a user-centric approach – one that prioritises and invests in the employees' needs and enables individual productivity and efficiency.
Technology and physical spaces must form a symbiotic relationship in order to deliver the best experience for the tenants. Given how stark and rapid a departure this is from office buildings of the past, it will seem a daunting challenge to some landlords. But it shouldn't; there are businesses that can help them to create modern workspaces that will meet their tenants' evolving demands, now and in the future.
Image: Nova North designed by Area.