November 9, 2022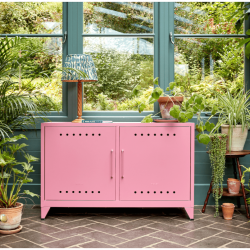 Fern is a new range of freestanding cabinets designed especially for the home by storage experts Bisley. With stylish utility at its core, the colourful capsule collection is elegant, flexible, functional and full of personality. The range, which is designed and made in Britain, reinvents traditional home storage formats of tallboys, linen presses, larder cupboards, credenzas and bed- or sofa-side cabinets in a no-nonsense, timeless aesthetic of hand-folded, vented sustainable steel.
Inspired by the silhouettes and proportions of familiar household furniture, the five Fern formats – Mini, Cabby, Middle, Maxi, and Locker – are full of character and designed to work throughout the home, whether that's as statement low-level cabinetry in an open plan living space, pantry-style kitchen storage, or stand-alone bathroom units for towels and beauty products. Fern's slender deep profiles range from 400 to 510mm and are designed to fit in anywhere – not forgetting the alcoves, hallways and landings that make a house a home. With versatility in mind, the various pieces in the collection have myriad functions. Whether you're looking for a TV unit, a bedside table, a wardrobe or storage for your hallway, the Fern collection has the perfect solution.
Known for the enduring popularity of its office storage design, Bisley honed its craft during WW2, making sturdy steel containers for airdropping supplies to troops and resistance fighters on the ground. Using the same technology, in 1958 the company produced its first MultiDrawer – the ever-popular design icon now sold in 50 countries across six continents.
Fern brings home more than six decades of Bisley experience of designing and making furniture-based storage solutions. "When creating the Fern range, a key element of the design process was to consider that the product needed to be fun – and the best way to convey this was to have fun with the detailing during the development process. It's important for a product to function, but it's just as important for it to feel right. We feel we've achieved this by bringing together a punchy palette, soft detailing and – by contrast – a utilitarian aesthetic," commented Jack Bees, New Product Development Engineer at Bisley.
A curated palette of 16 complementary colours means that Fern's impact can be dialled up or down. "Our hues were carefully selected to be on trend, not only now, but for seasons to come," said Lauren Shields, Brand Manager at Bisley. "We care about the sustainability and longevity of our products, as do our loyal customers, so we wanted this range to be, though accessible, an investment and a considered lifestyle purchase in a colour that is not only beautiful now but will last as long as the furniture piece itself."
With four height options, Fern is flexible and adaptable across a wide range of household storage and surface needs. Whether maximising volume vertically, as in Fern's Maxi and Locker formats, or horizontally, as in Caddy and Middle, the pieces are designed to work solo or in sets, in single colours or mix and match combinations.