July 2, 2021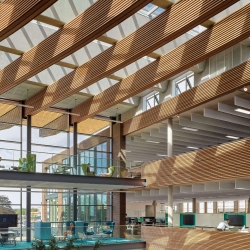 The new issue of IN Magazine is now available to read online. The print edition will be sent out next week. In this issue, amongst other things: Joanna Knight in conversation with Georgia Elliott-Smith on the harsh realities of workplace sustainability; Chris Kane and Eugenia Anastassiou on cutting through the workplace chatter; commentary from Guenaelle Watson, Will Easton and José Alberto Rodriguez Ruiz; Rob Harris on the new age of networks; the history and future of biophilic design; a look at the new workplace utopias; Louis Wustemann on the need to focus on people, not places; Sara Bean on the experiential workplace; Helen Parton visits the new office of Paymentsense; and much more.
Contents
Starters
Leader
Why we need to discuss workplace issues with more humility
Viewfinder
An idea that may help women gain some degree of potty parity (at last) and a new smart city concept takes shape beneath Mount Fuji
Comments
Our experts this month include Guenaelle Watson, Will Easton and José Alberto Rodriguez Ruiz
Mains
Interview
Joanna Knight talks to Georgia Elliott-Smith about the changing landscape for workplace sustainability
Sound and fury
The pandemic sparked an explosive blast of talk about work and workplaces. But how do we cut through the noise?
Net gains
The dominance of corporations is receding and the property sector needs to wake up to the growing need for networks
Hold the line
Flexible working should focus on the needs of people and that means offering them real choices about where and how to work
The experiential workplace
There remains far too much talk about the places we work, and not nearly enough about the way we experience it
Natural order
The long history of biophilic design may offer some clues about where we go next in the quest for wellbeing
Case study: Paymentsense
A new space in London proves offices should be defined by their ability to adapt as well as foster creativity
The machine stops
History tells us that sudden upheavals trigger a fresh yearning for utopias. So what ideas of paradise will we now see emerge?
In the wrong role
We're so focussed on presenting female role models in STEM, we forget to think about which role models are best
Desserts
Wellbeing Matters
Exploring the facets of wellbeing
News+Events
Our round up of company news, new products and upcoming events
Object – Handles
A new fear of the things with which we come into contact