March 28, 2019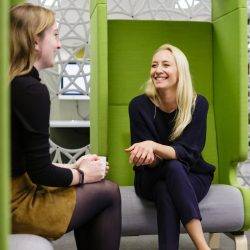 Intuit UK yesterday hosted almost 200 women, with diverse backgrounds across class, ethnicity and age, who are part of The Pipeline's alumni of their Leadership Summit programme. Over 50 percent of women in the room who attended Leadership Summit have been promoted or have broadened their role since finishing the programme.

The Pipeline works with hundreds of organisations and over 1,000 women helping them achieve their goals. To date, 75% of The Pipeline's Top Flight graduates achieve an executive committee and/or board appointment.
Although many organisations believe they are meritocracies and treat men and women equally, The Pipeline's bank of research, GENIE (the largest of its kind in the world), shows that this isn't the case – in fact there is still an invisible barrier preventing women reaching senior roles. The organisational issues most likely to hold women back are the lack of the CEO's belief and senior directors promoting in their own likeness.
GENIE's data found that the overwhelming challenge for women is that they do not get the same development opportunities as men. In response, The Pipeline launched The Big Pledge  – where each woman committed to a specific development action to achieve their career goals.
 "The best leaders are those who show you where to look, but not what to see."
Lorna Fitzsimons, Co-Founder of The Pipeline, reflected on the day; "If companies were as good at developing their female talent as they are at developing their male talent, just imagine what they could achieve #BalanceForBetter."
The Leadership Alumni on the panel discussed the breakthroughs they experienced:
·      Juliette Layne, Programme Director at the Home Office, said, "Being part of the Leadership Summit gave me a renewed energy to go out there and make my ambitions a reality."
·      Stephi Brett-Lee, Senior Director of Community & Corporate Affairs at Asda shared, "I've always had confidence in my abilities but the Leadership Summit gave me the tools to be able to articulate my worth clearly and positively and reminded me to settle for nothing less than what I deserve – and not to be embarrassed about that."
·      Sonya Bryson, Managing Director at NIG said, "I wouldn't have the job I have today without The Leadership Summit, as it showed me that I needed to have a big career goal and a plan to get there."
·      Anna Gallagher, Customer Journey & Digital Director at Jaguar Land Rover, summed up the panel's thoughts saying, "I left the leadership summit as a more confident and driven version of me, I have no doubt that this change in mindset supported me to secure my promotion to become a Director of a leading global brand."
___________________________________________