September 25, 2023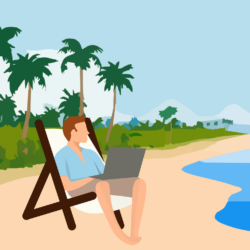 The trend for semi-nomadic working has grown in the past few months, and with it the 'workation', as people have looked for last minute sunny getaways after a somewhat disappointing UK summer. For the unfamiliar, a 'workation' is essentially taking advantage of remote working to blend work and a holiday. This could involve taking a summer holiday, and then working from the destination for a further week or two. Some may plan a visit to stay with friends or family, building some days of work into the trip, so they still get the enjoy the evenings with their loved ones. Or they may simply plan a normal working week undertaken remotely from a different location for a change of scene – anywhere from a mountain lodge to city break.
The 'work from anywhere' mentality has helped father this new phenomenon, and the flexibility and opportunity to re-set that it offers is hugely valuable. But for it to be a success, it's also important to consider how "workationers" can keep working effectively and productively. Having the right workation set up is a key part of this.
The benefits of a workation
A workation can allow workers to still enjoy some of the fun and relaxing elements of a holiday, but without eating into precious annual leave allowances. With more chance to get outside in the sun and visit the beach after work, having longer evenings, or getting to see a new city, it's possible to help balance work pressures and feel a new sense of energy – without a full two weeks off. The change of scenery can potentially help workers to access a new headspace and become more productive.
Amid soaring flight and accommodation costs, it also has the benefit of helping workationers keep costs down too, as travellers can book flights on off-peak days, or opt for a last-minute discount without the worry of getting the time off of work.
This phenomenon may also be a more effective way to blend 'work' and 'play', than the somewhat gimmicky office 'fun', like ping-pong tables, foosball and beanbags. These additions still require people to be in the physical office every day to enjoy them – and probably used too little to actually relieve stress or boost productivity.
The need for effective tech
 While taking a workation can have many benefits, there is also a risk of employees becoming less productive owing to a change in set up. And a notable drop in productivity from workationers will probably see the perk being short lived.
Offices have long been set up with the best tools for effective working, and as hybrid work has become entrenched in the last few years, employers have helped to equip teams with quality home working setups too – with many people investing in dedicated desk spaces and even building home offices.
But a workation could involve working in someone else's home, a hotel, a café or even at the airport – none of which are likely to be kitted out with the effective, quality technology needed for teams to keep working to their best ability. Think about spending uncomfortable hours at a kitchen table, or lots of background noise stopping people from having effective meetings, and its easy to see how productivity could be eroded.
The tools to keep working from anywhere
So, what tools do employees need? Equipping workationers with portable yet powerful peripherals is key here. Limiting distractions will be key to ensuring that during work hours, productivity is high – and workationers can fully enjoy their surrounding once work is done. Wireless earbuds are a great option here – with sound quality that is good enough to use for music during the "holiday" part of the trip, but which also feature a USB dongle to offer solid call connection to a laptop when users are working, as well as noise-cancelling tech and features like a mute button on the side of the earbud.
A quality webcam is also important – not just relying on a laptops inbuilt one. A small webcam is easy to pack and light to carry around, but can really boost the quality of virtual meetings by ensuring employees can be seen and heard – just like participants in the room.
Smaller, lighter, portable peripherals – that still offer high performance – are also a good consideration. Compact mice, like Logitech's MX Anywhere 3S, lets you work wherever you are while still offering the precision and responsiveness expected of a high-end mouse. More compact, wireless keyboards are also a good on-the-go choice – as they support better posture at the same time as being easier to carry around.
Anywhere working "kits" are also now available, such as the Logitech Casa Pop-Up Desk, which bundle compact keyboards, touchpads and laptop stands together into a single package. These are ideal for the committed anywhere worker who is looking to have the most productive set up in the smallest package.
Finally, ergonomic mice and keyboards can help keep employees working comfortably when away from their usual desk setup. Spending hours typing and clicking on a kitchen countertop or café table – especially if using the often cramped keyboard of a laptop – could cause wrist and arm strain. With ergonomically designed peripherals, this strain is reduced, for example by keeping the wrist at a more natural angle.
Closing thoughts
The greatest benefit of flexible working is the freedom it offers employees and the improvement to work life balance, and the workation is an extension of that. There are so many mental benefits to a change of scene, getting away to better weather and seeing the world in between working – as long as employees still have the tools to be productive.
Portable headsets, webcams, mice and keyboards are all central to ensuring this continued remote productivity, so employees can easily take their best work setup with them, and ensure the trend of workationing is one that sticks around for the long term.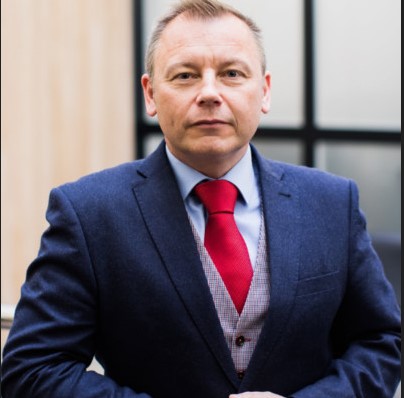 Eamon O'Doherty is Enterprise Director EMEA at Logitech, and has been at the company for 10 years. He has a long career in video and telecommunications, including roles at Jabra and Dixons.