May 6, 2022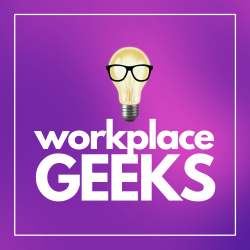 The Workplace Geeks are out and about for their very first LIVE episode, recorded at The Workplace Event, Birmingham NEC, UK in April 2022. For this special show they're joined by Dan Pilling, workplace strategy consultant at TSK Group. Their discussion explores the scope and value of practical workplace research pre and post pandemic, with some great questions from the audience (thanks to Brock James from iOtSpace, Stuart Watts from the GPA, and Steve Henigan from HCG).
Organizations thinking about workplace change can range from the well informed to the much less so, and so practical workplace strategy needs to recognise and accommodate both. Early visioning work can enlighten all parties. Much of the workplace data that organizations focused on pre pandemic is now largely redundant, but other research methods and data approaches, like scenario planning, can inform future workplace decisions. Equally, organizations shouldn't overlook the importance of investing in workplace change leadership alongside workspace commissions – the benefits greatly outweigh the relative costs.
All episodes of Workplace Geeks can be found here.