March 16, 2017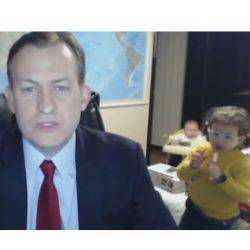 Almost a third (28 percent) of those working from home have been distracted by a crying child whilst on a work call, reports Morgan Lovell. In solidarity with Robert E. Kelly, a professor of political science whose Skype interview by the BBC was unexpectedly interrupted by his children, workplace design, fit out and refurbishment specialist Morgan Lovell commissioned a OnePulse poll to find out the biggest disruptions when working from home.
In the survey, a third (33 percent) of respondents working from home stated that the biggest distraction was their children. Other interruptions that featured highly were: pestering pets (18 percent), flatmates (18 percent) and noisy neighbours (16 percent). Of those unable to work from home, 9 percent opted not to because of distractions and a further 44 percent were not allowed to by their bosses.

[embedyt] https://www.youtube.com/watch?v=Mh4f9AYRCZY[/embedyt]
Like Robert, 30 percent of respondents have been interrupted on a work call by a child, a further 19 percent by a partner, but the biggest disturbance to work calls is the doorbell ringing (46 percent). Only 7 percent of those working from home have never had any embarrassing interruptions whilst on a work call.
Sam Sahni, Head of Workplace Consultancy at Morgan Lovell, comments: "Following Robert's interview on the BBC, there has been a lot of discussion about working from home, the distractions and his professionalism. We empathise with Robert, who was caught out when his children took centre stage during the live interview, and with 93 percent of our respondents saying they have been interrupted while on a work call, he is not alone!
"With technology supporting employees anytime, anywhere and businesses becoming more flexible, it has driven activity away from the office, but with flexibility comes responsibility. So, in learning from Robert and our survey, we know that there are distractions, we just need to create strategies to minimise them. It's important to remember that the open plan office comes with several sources of distractions. Therefore, the strategies at home should mimic those in the office.