October 27, 2021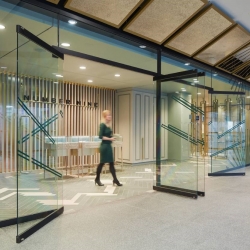 At a recent Women in Office Design event on the subject of hybrid working and workplace change, the founder of WOD Harsha Kotak posed a question which I thought was extremely important but often goes unasked. "Whilst I have a great understanding of how the workplace landscape will change", she said, "are companies making these changes?" This is a brilliantly relevant question because in my opinion based on my research and experience of the past year and a half, not enough companies are.
It's now commonly accepted that hybrid working will be the way forward, the question now is, how many days a week will people be working from home and how shall we change the space?
What companies need to understand is that for each day their employees work from home, this will produce a 20 percent reduction in the occupancy of the workplace. With the most likely outcome being 2 days a week home working, this doubles and becomes 40 percent less. Add this to the fact that even before lockdown, offices only averaged between 50-70 percent occupancy as there are always people in meetings, offsite, on holiday or ill.
You can imagine how many empty desks there will be going forward now with hybrid working being the norm. Not only would swathes of empty desks be a waste of space and a waste of money, imagine the rent and rates companies will be paying for desks that will not be used. It will also have a negative effect on people too as they will always feel as if the office is empty.
At Rainbow we have found that there are companies who are proactive and others who are reactive. The companies who have accepted there will be change have engaged with an architect or interior designer and are pushing on with improving the workplace to make it more engaging, more social and a much nicer place to be. This will subsequently entice their people back to the office and make it a space they want to visit, rather than have to.
The other companies, most of whom know they need to do something with the workplace but are not sure what, are understandably waiting to see what will happen and then make changes.
The return to the office
The problem with this of course, is that people will not be encouraged to return to the office. If it's the same space as 2 years ago, it will be worse because they will be sitting around with even more empty desks and this will have a detrimental effect on their mental wellbeing.
The problem these companies have, and they are the majority, is that people are hesitant when making the leap. They know things will change, it's inevitable, but it takes a very brave and very confident facilities manager to make the decision to get rid of workstations. Not only did they cost a lot of money when they were purchased but imagine if they are needed! What happens if things don't change, and they end up in a huge amount of trouble for getting rid of the desks.
The people at the top are the ones who need to understand that changes must happen
What most companies will end up doing is paying a fortune to store the desks just in case they are required. They will be paying storage for months, if not years, before eventually getting rid of them.
In order for a workplace to change, the instruction needs to come from the top down, with the support of the business owners or senior management.
The people at the top are the ones who need to understand that changes must happen because if they don't, their people will not enjoy coming back to the office and they won't be able to accommodate the social interaction that is needed, or the increase in online and face to face meetings. Larger kitchens and concentration spaces have also become even more important because those who are unable to work from home need a place in the office where they can concentrate and work quietly, but also somewhere they can catch up with their colleagues.
Some companies are simply looking at reducing the space they occupy. Whilst this may appear to make commercial sense, if the workplace is just the same but smaller and there are no collaboration spaces, meeting pods, social areas, or wellbeing spaces, then there is no benefit to those using the office and it will not give them what they need to carry out their work.
People will then leave for a competitor who has made improvements and provides a great space to work. The short-term financial gain will then be lost very quickly because the cost of recruiting people is huge and staff are the largest cost of almost all organisations.
There are also companies who will never make a change and will have the same problem, unless they do not care about losing their staff, and run a business which has a continuously revolving door where new people come in as others leave.
A supply problem
However, one of my major concerns at the moment is that furniture, as well as most other products, are on extremely extended lead times. This mean that as people start returning to the office and companies realise that they need to change their workplace, they will be in for a big shock. As I write this in October 2021, many manufacturers are already quoting delivery dates in January 2022, so companies need to start making changes as soon as possible.
At the moment there is a tax advantage for any company making an investment in their furniture. The new super tax deduction which runs until March 2023 means companies get 130% tax relief on expenditure in the first year for certain items. This makes the process much more palatable.
As before, the changes that are taking place were always going to happen, they have just been accelerated due to lockdown. Therefore, making the changes should not be as scary as people think and the offices that emerge will be even better places to work; they will be spaces where people enjoy being. That's what companies need to focus on because, as studies have shown, the reward for looking after your staff is huge, both in terms of productivity and profitability.