April 16, 2019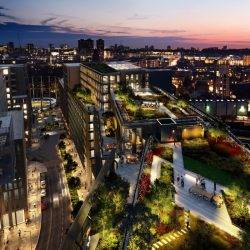 UK-based Bennetts Associates is the first architecture practice in the world to achieve approved Science Based Targets and commit to the UN's Climate Neutral Now campaign. This commitment builds on the practice's track record of sustainability within the built environment by taking a leadership position on climate change.
Climate Neutral Now is an initiative launched by the UN Climate Change in 2015 to encourage and support all levels of society to take climate action to achieve a climate neutral world by mid-century, as enshrined in the Paris Agreement. The scheme requires companies to measure and offset carbon footprints across three elements of the business.
"An example of integration of sustainability and climate action in business, through their commitment to set a science-based target, procure sustainable energy, and include sustainability considerations in their designs,"
Meanwhile, the Science Based Targets initiative champions science-based target-setting as a way of boosting companies' competitive advantage in the transition to the low carbon economy. The partner organisations behind it are World Wildlife Fund (WWF), UN Global Compact, the world's largest corporate sustainability initiative, CDP, the global disclosure system for companies, cities, states and regions to manage their environmental impacts (formerly the Carbon Disclosure Project), and the World Resources Institute (WRI).
Bennetts Associates was among the first architects to pioneer sustainability in large projects and bring it to the mainstream. Recent projects such as 5 Pancras Square for the London Borough of Camden are recognised as exemplars for urban and highly economical sustainability.
Peter Fisher, director at Bennetts Associates, explained that its BREEAM Rating of 97.6 per cent was the highest ever achieved at the time of its completion. "11-21 Canal Reach [Facebook's London HQ], which is currently on site, continues in the same vein, pushing the boundaries of embodied energy and wellbeing," he said. "In addition to projects, we place a high level of importance on our long-term environmental, social and economic sustainability as a business."
Sustainability targets
Bennetts Associates has committed to 20 sustainability targets for 2022 including ambitious science-based commitments to:
Reduce energy related GHG emissions by at least 21 per cent by 2022 from a 2016 baseline-year
Procure all energy from 100 per cent renewable sources
Reduce travel emissions by 7.5 per cent by 2022 from a 2016 base-line
Identify ambitious sustainability agendas relevant to each of their projects
Continue to measure and improve conditions that relate to physical and mental wellbeing for staff across its three offices in London, Manchester and Edinburgh.
They will also work towards being a single-use plastic-free office by 2022 and set policies that work towards incorporating the circular economy within their office practices as well as assist staff in switching their home energy to 100 per cent renewable sources.