December 19, 2016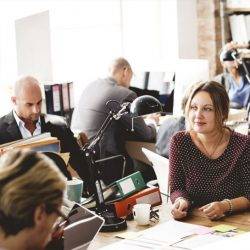 Four in ten (41 percent) of firms across the UK will grow their workforce in 2017 but uncertainty about the UK's future relationship with the EU has shaken overall business confidence in the labour market claims a new report. According to respondents to the 19th CBI/Pertemps Network Group Employment Trends Survey, for the fourth year running, growth in permanent job opportunities will outstrip temporary recruitment. But the balance of those expecting the UK to be a more attractive place to employ people in the next five years has flipped from +16 percent in the 2015 survey to -21 percent in this year's results. In terms of engagement, over three quarters (76 percent) of respondents reported that a diverse and inclusive workforce is vital or important to the future success of their organisation. They report a range of benefits of inclusive workplace practices including increased skills (73 percent), attraction and retention of staff (60 percent) and engagement levels (46 percent).
The survey of 353 respondents employing nearly 1.2 million people, found that while the pace has slowed by comparison to last year's survey, the positive balance of firms expecting to add employees over those expecting to shed jobs stands at +28 percent. This continues the optimistic trend seen every year since 2011.
Josh Hardie, CBI Deputy-Director General, said: "With record employment levels, more people than ever are now in work and the strengths of the UK labour market look set to yield positive results over the course of 2017.
"Businesses are 100 percent committed to making the best of Brexit. However, this year's survey does show a greater sense of concern about the UK's long-term attractiveness as a place to create jobs. Getting our industrial strategy right and understanding what the UK's future relationship with the EU will be, will help ensure that this worry does not negatively impact the future performance of the labour market.
"The Government should build on the positive moves it has already made to dispel uncertainty by drawing up plans for a smooth transition, giving firms both the time to adapt to new regulations and the confidence to invest beyond 2019."
Carmen Watson, Chair of Pertemps Network Group, said: "2016 may have been a year of uncertainty for businesses but what we are seeing, looking ahead to 2017, is renewed optimism with employers continuing to invest in their workforces leading to jobs growth across the UK.
"It appears also from the survey that the majority of businesses are now working hard to push diversity and inclusivity to the fore, as it is proven to bring benefits including increased talent and improved attraction and retention levels. However, skills gaps remain a concern for employers as having the right people with the right skills is crucial for any organisation's performance."
Firms are working hard to increase pay, with almost 6 in 10 companies (57 percent) able to do so in line with, or above RPI inflation next year. The initial rate of the National Living Wage this year has been testing for some companies with half of respondents reported they were impacted (50 percent). In response to the uplift in pay, 41 percent absorbed the cost within their profit margins, while 26 percent passed on the additional cost through increased prices to customers or suppliers.
Looking ahead to 2020, the ability of firms to cope by squeezing profits is likely to be reduced. A slightly higher proportion of affected firms anticipate passing on costs (28 percent) over the next four years, while the same proportion expect to increase automation to boost productivity and offset the cost of rising wages.  Nearly a fifth (18 percent) report they will look to reduce employment or restructure their business model to manage the scheduled increases.
While worries continue to grow about future access to skilled migrants as a threat to competitiveness (58 percent), up from 31 percent in 2015, almost as many of this year's respondents (50 percent) were concerned about access to non-graduate migrants needed to fill labour shortages in key sectors.
Josh Hardie, CBI Deputy-Director General, said: "As we enter a new phase of UK-EU relations, it is imperative that employers are supported effectively so our labour market continues to perform. There is a clear opportunity for the Government to work in partnership with business to position the UK as an attractive global hub and strong economy."
The survey found evidence that the vast majority of companies (77 percent) have taken steps over the past 5 years to build more inclusive workplaces, including action on flexible working opportunities (60 percent), training for line management (57 percent) and improving progression opportunities for staff (56 percent).
But challenges remain for many businesses (67 percent) with obstacles such as workplace culture and the mind-set of management yet to be overcome in introducing more inclusive workplace practices.
Read the full report here.