June 3, 2016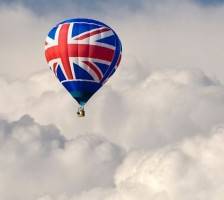 Uncertainty about the consequences of a possible UK vote to leave the EU is having an adverse effect on the country's construction pipeline, according to the Markit/CPS survey of activity in the market. According to the study, new building orders declined during May for the first time in three years although at 51.2, the index remains above the neutral 50 threshold which indicates that the trend remains positive. The May study specifically asked respondents how their work had been affected by the Brexit vote with one third saying it had had a negative effect. Meanwhile, an April study from CBRE found that demand for office space in London had remained robust through the first quarter despite fears that uncertainty about the market and the wider economy related to the referendum would dampen demand. Meanwhile, a new survey from the IEMA claims that two-thirds of members believe environmental issues will be given lower priority if the UK leaves the EU.
The April CBRE study claimed that 3.1 million square feet of the capital's offices were taken up by occupiers in the first three months of 2016, only marginally below the 10-year average of 3.2 million. The amount of office space under offer had remained unchanged from the previous quarter at 3 million sq ft, having been above the 10-year average of 2.8 million sq ft since the beginning of 2014.
Emma Crawford, head of central London leasing at CBRE, said: "Between a weak outlook for global economic growth and an upcoming vote on EU membership, businesses have had to contend with a heightened level of uncertainty. That demand for office space has remained so resilient speaks volumes for London's ongoing attractiveness as a global hub for those companies hoping to lay down roots or expand their footprint in the capital. Whilst the high level of space under offer is particularly encouraging, we anticipate a more subdued Q2 as the referendum vote gets closer. We will be on course for a rebound in leasing activity in the second half of the year provided the UK votes to remain in the EU."
Results from the poll carried out in May of members of the Institute of Environmental Management and Assessment UK members reveal concern about the way environmental issues could be addressed in the event of a vote for Brexit. Two thirds believe the way that environmental issues are taken into account in infrastructure decision making would be reduced or removed altogether.
Half of respondents say opportunities for the public and communities to engage in the decision making process on new infrastructure proposals that would potentially affect them would be reduced outside the EU. 43 percent think current engagement processes would be retained, with only 7 percent saying it would be enhanced.
Almost 1,200 members responded to the second of IEMA's online polls to test views on different aspects of UK/EU environmental policy one month ahead of the EU Referendum on 23rd June. The majority of respondents (81 percent) believe that European laws and regulations are important in providing them with a framework for being able to deliver environmental protection and improvements.
Overall, the vast majority (93 percent) believe that efforts to halt and reverse the loss of biodiversity in the UK are best addressed within (80 percent) or aligned to (13 percent) EU policy frameworks. 7 percent think this is best addressed by UK policy being separate and outside of EU policy regimes. If the UK were to leave the EU, 60 percent believe that there will be a lower level of legal protection for wildlife and habitats.
In recent years, the Common Agricultural Policy has increased environmental management and protection requirements linked to payment support to farmers. 69 percent of respondents who expressed a view believe environmental requirements associated with payments to support UK farmers would most likely be reduced or removed, if the UK votes to leave the EU.
Impact Assessment
The EU Environmental Impact Assessment (EIA) directive was amended in 2014 to bring in new requirements to harmonise EIA between EU Member States, streamline the process to reduce burden, and introduce basic quality requirements across the EU.  Of those involved in EIA, 80 percent believe that the EIA Directive has enhanced the way that environmental issues are factored into development consent decisions for major infrastructure projects.
Respondents were clear when asked about who should be covered by "competent experts" cited in the amended EIA directive:
61 percent believe that the EIA co-ordinator and the lead on each environmental topic area (e.g. ecology, air quality) should demonstrate they are a "competent expert";
8 percent believe it should be limited to just the EIA co-ordinator having to demonstrate they are a "competent expert";
31 percent believe that everyone making a contribution to the EIA process should demonstrate that they are a "competent expert".
IEMA provides the majority of EIA related CPD in the UK and runs the individual EIA register and the EIA Quality Mark scheme (for organisations that co-ordinate UK EIA).  Given the new requirement for EIA Reports to be produced by "competent experts", of respondents who expressed a view:
64 percent believe this should be a member of any relevant professional body with sufficient EIA expertise
19 percent believe only IEMA members who can demonstrate sufficient EIA experience and expertise should be considered to be competent experts for UK EIA
10 percent believe only IEMA members who are registered on the individual EIA Register should be considered to be "competent experts" for UK EIA
7 percent believe anyone with CEnv status should be considered as being a "competent expert" to undertake EIAs
The European Commission is currently reviewing the Strategic Environmental Assessment directive to determine whether it requires amendment /updating since it was published in 2001.  75 percent of those who expressed a view of the Strategic Environmental Assessment Directive's progress in the UK since its transposition in 2004 believe that it should be amended.