November 15, 2021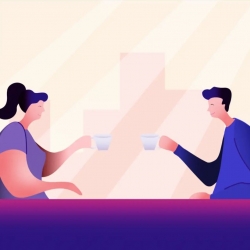 The brains behind Upmo are two of the equity partners at Devono – the UK's leading commercial occupier-only advisory practice. Described by Forbes in 2015 as disrupters of the status-quo, Luke Philpott and Robert Leigh have once again come together, with the addition of technologist Alastair Bishop, to found Upmo.
Leading the industry since 2003, Philpott and Leigh have continued to drive the commercial property market forward and developed an innovative new platform that stands to redefine how we search and find serviced offices in a post-COVID world.
Upmo is an easy-to-use platform which is entirely free for seekers of office space. Users enter their desired office location, number of required desks and price range, after which they are provided with an inventory of search-matching office spaces from across the entire market. They are then connected with the respective Providers directly, cutting out the need for brokers, and as such, saving users between 10-20 percent on every transaction.
Upmo caters to businesses for who flexibility is at the core of their search criteria, and critically for who don't want brokers involved. The COVID-19 pandemic has fundamentally altered how we interact with workspaces. According to the Office of National Statistics, around a third of businesses (32 percent) are uncertain what proportion of the workforce will work from their usual workplace. Flexibility mitigates uncertainty; Upmo is passionate in showing there are fairer and more transparent ways of choosing positive working environments.
For further information, you can find out how a new dental tech start up, 32 Co, used Upmo to find the perfect office space.