November 15, 2021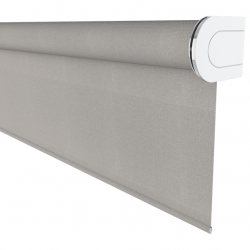 An innovative hybrid-power shading solution has been launched which brings all the benefits of motorised blinds with none of the costly power supplies and electrical works to occupants and designers of commercial buildings. Waverley, which specialises in improving the performance and aesthetics of public and working spaces, and automated window treatment experts QMotion have partnered to bring a completely wireless and near-silent shading solution to the commercial market, called the ShadeTech RBL-QM Hybrid Roller Blind.
The system works from a patented, hybrid counterbalanced spring and D cell replaceable and recyclable alkaline batteries concealed within the tube of the blind system.
As the batteries work in conjunction with the counterbalanced spring, they only require a small amount of charge to operate the blinds, which means they have an extended life and can last for up to 3 years. The system is more effective and sustainable than traditional battery-operated blinds.
Daniel James, managing director of Waverley says, "It's not often in the solar shading industry that a new roller shade disrupts the market, but ShadeTech powered by QMotion does just that. Wire-free control and high performance at a highly competitive price."
"Wire-free control and high performance at a highly competitive price"
The maintenance and replacement of batteries is simple with easy access due to their central location within the roller tube. In addition, the alkaline batteries can be fully recycled which helps towards environmental credentials.
Users can operate the versatile motor via wall switches, remote controls and even manually, with a tug on the bottom of the blind. The multi-channel remote controls up to 5 individual blinds or 5 groups of blinds or a separate 'control all' function with one remote control. Each channel can have an unlimited number of blinds programmed to it.
Ideal for any environment
ShadeTech RBL-QM is the perfect retrofit solution as no electrical cables are required to provide power to the blinds, so the existing decor is not affected. It is equally a great solution in new buildings, offering savings on cabling costs and concealment, whilst still providing all the aesthetic and functional benefits of a mains powered blind.
With a maximum size of 3.8m by 4.5m, RBL-QM fits most standard glazing sizes in traditional and contemporary spaces. It can be combined with the comprehensive range of ShadeTech performance and decorative fabrics.
Features and benefits
1. Entirely wireless
2. Powered by long-life, fully recyclable D-Cell batteries that last up 3 years
3. Concealed, easy access battery change
4. Near-silent operation (38dB)
5. 20-year guarantee
6. World-first manual override technology
7. Qbasic Plus gives you the opportunity to upgrade a manual system to motorised
8. Sustainable – in other battery-powered blinds, motor performance deteriorates over time and cannot be recycled
9. Safe by Design – completely cordless
Ian Claxton, Managing Director of QMotion UK says, "There is a huge opportunity to bring the convenience, comfort and aesthetic benefits of automated blinds to workplace, education and healthcare applications. Our patented technology combined with the expertise and experience of Waverley in these markets is a winning combination. We're looking forward to bringing the advantages of ShadeTech powered by QMotion to end-users and occupants."
With today's push for sustainable, convenient shading solutions, ShadeTech RBL-QM is a serious contender across all sectors.