April 30, 2020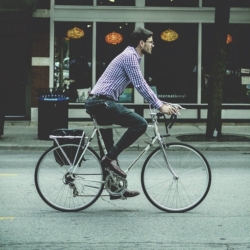 More and more politicians and business leaders are keen to see the UK ease lockdown and begin a move towards returning to work. Is it's too early to plan the exit from lockdown? Maybe. But either way, the general chatter about what a post COVID19 will look has predictably fanned the debate about how workplace will cope. It is a good debate, with valid ideas shared by the likes of Antony Slumbers, Neil Usher and others.
But there is an elephant in the room.
Fear.
Chris Kane talked about it in a recent blog. He has a point. After all, do we want to go back to work at all? People are going to be nervous at the very least. But no matter how many rosters, rotas, air handling kits or ticketing systems are set up the major issue for anyone working in a central business district of a city or town is their journey to work in the first place.
Will people in London, Manchester, Birmingham and Glasgow want to endure the daily commute. Londoners normally revel in the armpit to face conditions of the underground. Will they in after COVID19 lockdown relaxes? Who will relish the bus, train or tube commute now?
So, what does that mean? It means some major employers in central London are looking to setting up more bicycle parking stations. And not just the odd dozen. We're talking about considering thousands of them. But is that realistic? It's likely that scared commuters will seek independent private means of travel. So, a bike is an option, but the car trumps that for infection control. More cars mean more congestion and poor air quality. The exact opposite of the effects of the virus on our environment.
A new route
It makes sense to consider the route to work. Local authorities in London are reviewing policies regarding walking and cycling (active travel). Chris Boardman, Greater Manchester's commissioner for walking and cycling said this week that there were two weeks to get this right. Boardman's argument is a good one, but it is not all about restricting the use of cars, widening pavements and improving cycling infrastructure.
Changing the journey to work means making it shorter or cutting it out totally. After all, not many people will embrace a ten-mile bike ride from outer London into the City and then do it again on the way home. Driving that route should not be an option. It goes against all sensible wellbeing and environmental principles.
Should big employers continue to use central city spaces? Why not set up satellite offices in outer city areas, or out of town totally? Why not reinvigorate smaller centres and high streets? Perhaps we need to more co-working space that is deliberately not so central.
If we do not plan the return to work correctly then it is likely the post COVID19 world might be worse from an environmental, physical and mental health perspective. The exit from lockdown needs a pathway. That path needs planning now. Then we can decide what happens at work if, when and how we decide how to travel there in the first place.
Image by Free-Photos

Andy is a writer and consultant on the  built environment and workplace with communications consultancy Frank and Brown. He previously led the in-house team at Alfred McAlpine and is a former editor of FMX magazine.