November 3, 2022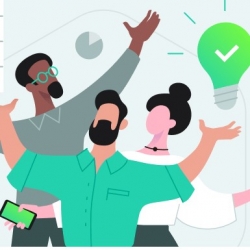 A new study claims that WELL certification appears to boost levels of satisfaction and perceptions of health, wellbeing and productivity in people. The study claims to show an increase in occupant satisfaction by nearly 30 percent, as well as occupant perceived well-being scores by 26 percent, mental health by 10 percent and productivity by 10 median points in WELL Certified buildings.
The peer-reviewed study, Impact of WELL Certification on Occupant Satisfaction and Perceived Health, Well-being, and Productivity: A Multi-Office Pre- Versus Post-Occupancy Evaluation, published in the Journal of Building and Environment claims to be the largest and most comprehensive longitudinal research of its kind. It analysed the impacts of WELL Certification on occupants across four perspectives: satisfaction with the workplace, as well as physical and mental health, wellbeing, and productivity. Using extensive pre- and post-occupancy survey data, the analysis was able to assess the impact of WELL Certification on the people inside a space when compared to their experiences before certification.
According to the study's survey findings, WELL Certification showed a series of statistically significant occupant benefits, including:
A near 30 percent improvement in overall satisfaction with the workplace, which jumped from 42 percent to 70 percent.
A 26 percent overall increase in reported wellbeing scores.
A 10 percent increase in mental health and a 2 percent increase in physical health.
A 10-point jump in median productivity scores.
The research team analysed the impact of WELL Certification using more than 1,300 pre- and post-occupancy survey responses from six companies in North America with analyses conducted at both the aggregate and company level.
"It's exciting to see that, for the first time, researchers have published rigorous longitudinal research that provides a holistic view of the tremendous benefits of WELL Certification," said Rachel Hodgdon, President and CEO, International WELL Building Institute (IWBI), the creators of the WELL Building Standard. "This study shows unequivocally how WELL, with its people-first approach, supports wide-ranging benefits for occupants and organizations alike, creating significant improvements in all-important areas of occupant satisfaction and health, wellbeing and productivity."
WELL is a framework for scaling health across buildings, organizations and communities. Developed over a decade and backed by more than 7,000 studies demonstrating the latest scientific research, WELL outlines key building-level interventions and organisational strategies across 10 categories: Air, Water, Nourishment, Light, Movement, Thermal Comfort, Sound, Materials, Mind and Community. Today, WELL is being used in 125 countries, by more than 100 of the Fortune 500 companies and across more than 4.2 billion square feet of real estate.
In addition to finding that WELL Certification increased overall occupant wellbeing by 26 percent, the study also found it helped occupants feel more energized, more motivated to work and more confident that the workplace is conducive to health as well as an increased sense of pride in being a part of the organisation.
In the study's analysis at the organizational level, the findings on the impact of WELL Certification were similar. Every company in the study saw sizeable advances in overall occupant satisfaction. All saw marked improvement in overall perceived mental health, with one company jumping as high as 14 percent in its average perceived mental health score. The average productivity score also improved for all companies, ranging from 1.39 percent to as much as 6.72 percent. Lastly, the average scores for well-being increased considerably for all companies.
"For a long time, the community has been waiting for a systematic evaluation about the effectiveness of WELL in achieving its goals," said Dr. Wangda Zuo, advisor and author of the study and professor at Pennsylvania State University. "This study takes a major step forward in helping fill this research gap by providing significant evidence showing the positive impact of WELL Certification."
WELL Certification represents the highest pinnacle of health and well-being under the WELL Building Standard, spanning 108 features across all 10 categories in WELL. It provides a roadmap for improving the quality of our air, water and light with inspired design decisions that not only keep us connected but facilitate a good night's sleep, support our mental health and help us do our best work every day.
"WELL is not only the most comprehensive building certification program for health and well-being globally, but it's also the most rigorous because of its requirements to test and verify through a third party. Rooted in the science and resolute on accountability, WELL provides real impact in the market," said Dr. Whitney Austin Gray, senior vice president of research at IWBI and a co-author of the study. "This longitudinal study, consistent with all the case study literature, confirms WELL's ability to improve occupant perceptions of health, well-being and productivity. It also shows definitively how a robust measurable system like WELL can help other organizations reap similar benefits."
"Based on what we know from other research, our hypothesis held that the human-centered design strategies found in WELL would have a positive impact on health and well-being," said Nasim Ildiri, lead author, who is with the University of Colorado, Boulder. "The study overwhelmingly confirmed that hypothesis, showing notable improvements across each of the four major areas examined: satisfaction, health, well-being and productivity. For organizations and companies, the study verifies the material benefits of WELL, which could very well serve as another powerful accelerant for healthy building adoption."