November 3, 2022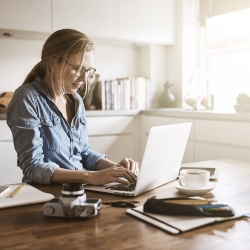 As economic storm clouds gather, the flexibility and freedoms introduced during the pandemic that employees benefited from are now at risk according to a new study conducted by LinkedIn. It claims that in the UK, the current economic and business climate is causing concern among business leader that companies will be forced to wind back progress on important areas of working life such as flexible working (75 percent), skills development (76 percent), and employee wellbeing (83 percent).
The analysis of remote job postings on LinkedIn suggests that the number of remote roles is currently in decline. According to LinkedIn data, in the UK, hiring for jobs with remote, hybrid and flexible working options peaked in January 2022, when almost 16 percent of jobs listed on the platform were remote. This is compared to just under 12 percent in September 2022. This mirrors a trend we are seeing in countries around the world and is likely a sign that remote work has peaked as employers look to get teams back into the office.
The LinkedIn study of 272 C-level executives from large organisations across the UK, combined with LinkedIn jobs data, highlights a growing disconnect between what professionals want and what employers are now offering, with the balance of power shifting back to employers as hiring slows.
This is despite the fact that according to LinkedIn's Global Talent Trends report, flexible work comes top of the list of priorities that employees value in employers today, even beyond compensation. Skills development and work-life balance also feature high up on the list – other areas that are at risk of being scaled back during economic uncertainty.
Professionals are refusing to return to the old ways of work, according to the report. In many countries, applications to remote roles vastly outstrip supply. While just under 12 percent of jobs in the UK are remote, they're receiving more than 20 percent of applications in September 2022.
With turbulence ahead, UK leaders say keeping employees motivated and engaged is their number one workforce priority over the next six months. This comes as they also recognise that financial strains due to the increased cost of living (49 percent) and worries over being laid off (33 percent) are playing on employees' minds currently.
As companies navigate uncertainty, one area of agreement is clear – communication is critical. It's the top soft skill global leaders identified as necessary to getting through this time, followed by problem solving, transparency and empathy. In fact, the soft skills of problem solving, communication, and strategy were featured in 78 percent of jobs posted globally on LinkedIn over the last three months. Rather than leaving their teams in the dark on the tough decisions ahead, leaders need to build bridges to their employees and bring them on the journey with them.