November 3, 2022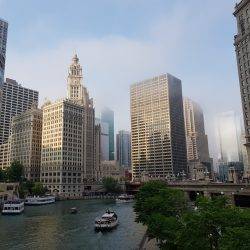 NeoCon, the office design and interiors event that takes places in Chicago each year, is inviting thought leaders, researchers and industry specialists,  to submit proposals for its onsite and virtual show conference programme, which takes place from June 12-14, 2023, at THE MART in Chicago. Contributors are also sought for the event's year-round educational offerings. The announcement builds on the success of a lively NeoCon edition this past June that the organisers claim united and inspired the industry.
"NeoCon continues to be a leader in the commercial interiors and broader design conversation, providing an essential platform to gather, learn, and share ideas," comments Allison Kearns, Director of Programming for THE MART. "Our robust conference program will continue to incorporate our popular tracks and session formats. We're also excited to introduce new programming initiatives, such as immersive workshops to engage on-site attendees in practice-oriented learning."
According to the organisers, NeoCon's programming is known for delivering invaluable insight into the topics, trends, and movements that affect the commercial design industry and the world at large. Proposals will be considered for both virtual and in-person continual education unit (CEU) programming across a wide range of educational tracks and categories including Workplace, Healthcare, Education, Design Skills, and Technology. Online CEUs will be pre-recorded and streamed through The NeoCon Hub.
A limited number of submissions will be selected for Onsite CEUs, as well as Onsite Workshops, which will provide a more in depth and hands-on educational experience. All selected sessions will help shape the future of design through knowledge-building and awareness, according to the event organisers. More details of how to take part, as well submission guidelines can be found at neocon.com/programming/call-for-presentations. Submissions will be accepted through January 31, 2023.
For showroom, exhibitor, and general NeoCon news, images, and real-time information, follow NeoCon on: Facebook?(@NeoConShows), Twitter (@NeoCon_Shows), Instagram (@NeoCon_Shows), and LinkedIn (@NeoCon-Shows).