November 2, 2022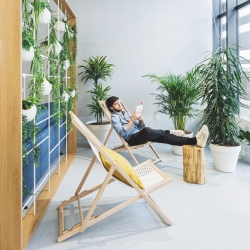 A new report from the British Council for Offices (BCO) is urging the commercial property industry to 'retain, extend life, reduce impact' to futureproof offices. The report sets out to provide circular economy guidance to the office sector in relation to new-build, refurbishment and fit out. The Circular Economy in Offices report [BCO members only] claims to set out how offices can be designed and constructed in order to eliminate waste and pollution, circulate products and materials and regenerate nature.
The construction sector is one of the largest consumers of materials and produces more waste than any other sector in the UK. Offices account for 15 percent of the total commercial property sector's waste and 44 percent of the construction sector's waste.
BCO's research highlights the actions that can be taken to embed circular principles into the office sector to transition away from a wasteful linear approach, with a focus on three circularity principles:
• Retain – what is already there
• Extend life – ensure what is designed in will keep materials at the highest residual value
• Reduce impact – reduce the impact of anything introduced and make improvements to nature
Fit-out is the most significant opportunity to embed circular principles within the office sector and can help to meet urgent goals around climate change, waste generation, material extraction, pollution and species decline. As hybrid working becomes the norm and emerging demand is leading to some existing spaces no longer being fit for purpose. At the same time, increased take-up of shorter commercial lease lengths, a trend which has been accelerated by the pandemic, is driving greater turnover of occupiers who demand bespoke fit outs and strip-out, creating unnecessary waste.
The report highlights the urgent to need to address the issue of 'Category A' interior fit-outs (which comprise lighting and basic finishes such as flooring installed in a new building) being stripped out by the incoming occupier. The long-standing problem involves a developer fitting out a building to Cat A in order to showcase the office to prospective occupiers who, after agreeing to let the space, then discard all finishes and fixtures, which usually cannot be reused, and install their own from scratch.
The BCO recommends that Cat A is eliminated from office fit out unless specified by the incoming occupier. Where Cat A is needed, virtual reality (VR) could be used as an alternative approach to showcase the potential of the space or, if needed, fitting out only one floor to Cat A standard as a showroom. The BCO also calls on property agents to work to avoid Cat A strip-outs by matching occupiers, developers and building owners early in the process to ensure that the first time the office is fitted-out the occupier's requirements are being met.
The comprehensive recommendations include key considerations at the outset of a project:
• Working on the basis that reuse is the only viable option and taking new design approaches that incorporate reversible fixings, and standardised designs
• Designing for future scenarios where offices transition to residential or other uses, adapt to climate change scenarios or create flexible multi-use spaces
• Application of material passports to enable occupiers to understand materials that are contained within their ownership.
The report outlines the steps that should be taken by various stakeholders:
• Owners and occupiers need to set clear circular economy strategic objectives and project-level key performance indicators (KPIs) that embrace reducing embodied carbon, zero waste, recirculating materials and regenerating nature.
• Design teams should be encouraged to use data from pre-demolition audits when designing spaces. There should be a prioritisation of principles such as designing for disassembly, designing out waste and reusing from demolition or from other projects.
• Material suppliers and manufacturers can provide the infrastructure to enable take-back schemes to become a more common feature of the market.
• Letting agents must clearly articulate and inform future occupiers of the reasons why a circular economy is incorporated in office new-build and fit-out.
The authors claim that systematic change is required to transform the policy landscape and ensure public and private organisations operate in a manner that encompasses circularity. Practically, the challenges include changing attitudes, perceptions, understanding of the business case and creation of warranty or standards in the commercial property sector.