March 25, 2021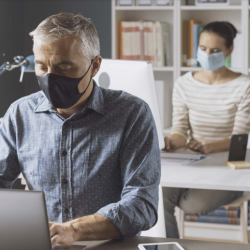 Corporate wellbeing could add £61bn to the English economy by 2025 through added productivity, if UK companies can create new wellbeing strategies and improve underperforming ones, according to a new study by Westfield Health.
For its latest report – Coping after Covid – the corporate wellbeing provider claims that strategic wellbeing plans could add billions to the wider English economy. This includes adding £13bn to the Northern economy, which could help bridge the North–South divide. The North will have to act quickly though; the South and the Midlands have opportunities to add £45bn and £2bn, respectively, to their economies.
However, Westfield Health has uncovered that an estimated 320,000 businesses have wellbeing strategies which are not fulfilling their potential and reducing the returns from better productivity, happiness, and wellbeing. While many businesses (94 percent) with a wellbeing strategy say productivity is at least good, 320,000 report very poor productivity levels.
Additionally, the research claims that while investment in employee wellbeing is increasing nationally, 64 percent of businesses plan to either freeze or decrease their wellbeing spending in 2021, damaging their chances of getting this £61bn economic wellbeing bonus. Of those looking to decrease spend, the main issue is a lack of funds to increase investment (46 percent).
There also appears to be a false belief that wellbeing isn't improving productivity (34 percent), morale or engagement (20 percent). The Westfield Health data suggests that these companies may simply not be implementing wellbeing successfully.
Westfield Health say that 43 percent of HR managers with a wellbeing programme rated productivity levels as very good, against just 18 percent of those without a wellbeing programme. Also, 84 percent said wellbeing is becoming more important to their business and 59 percent said they want to do more in terms of wellbeing, but company culture prevents them.
The reasons for implementing wellbeing strategies for HR leaders are also encouraging. More than half (58 percent) have a staff wellbeing programme to boost employee morale while 46 percent use it to increase performance, 45 percent to improve engagement or productivity, 39 percent to improve staff retention and 34 percent to reduce absenteeism.
As a result, the corporate wellbeing provider is encouraging businesses to examine their wellbeing programmes to achieve the benefits that other HR leaders are getting.
"The recovery of the UK economy will rely on the health and wellbeing of its people."
Dave Capper, CEO of Westfield Health, said: "This past year has shown that the recovery of the UK economy will rely on the health and wellbeing of its people. The findings from our research highlight that when wellbeing is done right, it will directly improve a business.
"There are hundreds of thousands of wellbeing programmes out there that aren't giving the most they can to their companies. And with no help for corporate wellbeing coming out of this year's budget, it is up to the companies themselves to take care of the mental and physical wellbeing of their employees.
"To create a successful wellbeing strategy, we must continue to personalise policies and recognise different individual requirements. In the past 12 months, some have thrived whereas others have struggled. The different experiences for parents, those on furlough – possibly up until September now – single people isolating alone or any number of situations has created a workforce that is united by its division and businesses must prepare for that.
"The economic prize discovered by our research is one to aim for, but as with any prize this big, it is not going to be easy to reach."
Westfield Health suggest that poor execution of wellbeing is not the only barrier to successfully achieving the £61bn economic boost, with the average business in the North spending an estimated 17 percent less on wellbeing per employee than the South.
Dave Capper continues: "This data provides boardrooms with a powerful argument for investing time to getting wellbeing right as a core, strategic element to strengthen a company. Happier workers, better retention rates and higher productivity are outcomes that all businesses want, and wellbeing is crucial to achieving that.
"However, if wellbeing policies are introduced, it must be done correctly, otherwise boardrooms and workforces across the country will lose faith in the effectiveness of wellbeing strategies and not engage or commit to change. The payoff is not just an economic boost, but a boost to employee retention, happiness and long-term reputational prosperity for the businesses that do wellbeing right."
Image:Westfield Health