April 11, 2016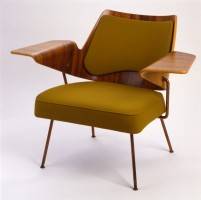 As the office continues to evolve so too do the materials used within it. While many corporate headquarters make liberal use of brushed steel, aluminium and glass, an ancient, well loved and sustainable material is becoming increasingly popular all over again. Wood never went away,  of course, but the latest ideas about office design seem to have given it a new lease of life as a material. In part this is down to an inherent love for wood, but it is also acknowledges the aesthetic and functional crossover between the office and other places where we work such as cafes, hotels and homes. Nowhere is this more apparent than in the new  generation of commercial office furniture designs. In many ways they hark back to the 1950s when the British were introduced to modernism in no uncertain terms. This design movement led the British to reject dark woods and embrace new forms and materials including lighter, arguably more natural woods.
Wood is a material that people inherently love. So much so in fact that firms have often sought to mimic with both imagery and the use of laminates.  But biomimicry can only take you so far. Not only is there nothing like the real thing from an aesthetic point of view, wood has a number of characteristics that set it apart from its artificial substitutes. It ages to become more – rather than less – beautiful. It is renewable, sustainable, recyclable and durable. Trees are inherently good for the environment, absorbing CO2 and making the world more beautiful.  Even its imperfections are seen as attractive because they testify to its authenticity.
What such sentiments overlook is quite how wonderful a material wood is. It is uniquely sustainable when sourced appropriately and derives from natural resources that actively reduce the level of carbon dioxide in the atmosphere as this video explains.
[embedplusvideo height="367″ width="450″ editlink="https://bit.ly/1E8izSR" standard="https://www.youtube.com/v/XxfBxmr0ZnI?fs=1″ vars="ytid=XxfBxmr0ZnI&width=450&height=367&start=&stop=&rs=w&hd=0&autoplay=0&react=1&chapters=&notes=" id="ep5846″ /]
Wood offers a range of other advantages as a material for the creation of office furniture. It is tough, strong, consumes little energy in the manufacturing process, can be sourced locally, has a low cost of disposal, is biodegradable and can be renewed endlessly.
So it's little wonder that cutting edge firms such as Ocee, Buzzispace, Verco, Vitra and Connection have focussed on wood as the core material in their new products, and will be showcasing them at next week's Clerkenwell Design Week . What is telling about these products is not only the material they use but also their functionality and aesthetic. They testify not only to our enduring love affair with wood but also to the ways in which the various parts of our lives intersect. Nowadays there is less and less distinction between office, home and public space as a working space and this is reflected in the design of these products.
They are following a long tradition of designers who have used wood as an inspirational material. One of the most famous of these is to be the subject of a retrospective at the V&A as part of the London Design Festival. From 19th September, Robin Day's life and work will be celebrated as one of the most important furniture designers of the 20th Century.
He may be most famous for the familiar polypropylene chair but wood was always his material of choice according to his family, friends and colleagues. The exhibition has been curated by Jane Withers with the support of the Robin and Lucienne Day Foundation and includes features such as his iconic chair designs for the Royal Festival Hall from 1951 (top).
According to Jane Withers; "Wood played a huge part in Day's life, both as a designer and in his home life. But it is an aspect of his work that few people know much about.  Exploring this strand in his work through the archives and creating an installation in response to his work in wood will allow Day's many admirers to see his work from a new perspective and also highlight how he turned wood into an expressive modern material."
It's no surprise given the timelessness, functionality and appeal of wood that it retains its position as the material of choice for generations of products. It is not only a material that taps into our ancient associations with nature but also is perfectly aligned with modern demands for sustainable, functional and beautiful products.
___________________________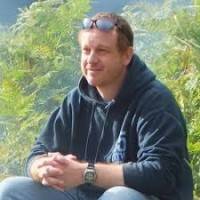 Paul Goodchild is the Design Director of Fresh Workspace.