March 3, 2022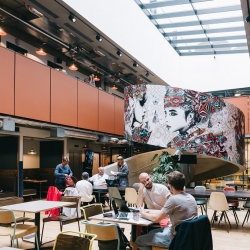 Should I stay or should I go? – we have all faced that dilemma in recent weeks with our offices opened by hopeful employers versus the enticement of a warm kitchen, fresh coffee and swerving a long commute also on offer. It is a decision we are all having to make and, which seems loaded with potential, previously unimagined outcomes.
For the Clash, the song of that title gave them their first #1 hit, and is a fan favourite for one of the UK's greatest bands of the 70s/80s but one which ultimately brought about the exit of the songwriter Mick Jones and the end of the group. It is a song loaded with meaning and, ultimately, unintended outcome. Is the workplace facing a similar demise?
Our recent research found that the ratio of office space usage with dedicated desks is expected to make up less than 25 percent of corporate offices by the end of 2022. No massive surprises there, if we are really honest, but it is a shock when you compare that to the 80 percent + occupancy in London and the UK's coworking centres. The former would suggest that offices are now relatively redundant – in the face of improved team connectivity – but the latter shows a thriving demand for workspace.
The more managers discover about workspace, the less that their organisation really NEEDS it
The difference between the two types of workspace seems to be purpose….. in corporate space, the workforce have yet to find a really compelling reason to return but coworking, those teams have to come together to get business down, to write the latest business plan, to thrive and grow. CRE professionals are working hard to better understand the hows and whys of workspace demand within their organisations. The irony is that the more they discover about offices, the less that their organisation really NEEDS them.
Workers have been empowered by the enforced homeworking of lockdown. Workspace location and mode has, for the first time, become truly democratic. Business leaders are learning that they cannot be autocratic in their workspace decision but have to now influence their workforce electorate. And CRE teams are having to pull together strategies that influence their colleagues and create engagement with offices again.
New approaches
Without a doubt, we have seen several corporates re-emerge this side of COVID-19 with brand new occupancy strategies and workplace design guidelines. One of the UK's largest petrochemicals businesses has completely rewritten the future of the workspace, in building its workplace strategy around the new demands of the modern employee. These demands include flexibility, a better work-life balance and reduced expenditure.
Only a quarter of companies have data on how their employees are using space today
So far, so smart. But when you look at the political "game" these days, you note the vast reams of electoral data and user group information that they play with to dictate strategy, areas of focus and, ultimately, success. CRE is still – to the most part – making these decisions blind, with very little meaningful data to play with. Workplace planning is harder than it's ever been before and without workplace utilisation data, it is impossible.
Surveys have shown that only around a quarter of companies have data on how their employees are using offices today, with 20 percent not even knowing if, or when, their staff are in the office. As a result of this, sensor and anonymised cameras are becoming increasingly popular, with technologies enabling the shift to hybrid working through smart measurement of exactly how we now use office space.
What little data they have has provided businesses with the insight needed to hypothesise the impact of COVID-19 on prior utilisation and to revise the workplace strategy to meet the new needs of employees. But this is the "how" of workplace decision-making…. To understand the "why" you need to dig a lot deeper and develop user surveys, focus groups and any other sentiment data you can get your hands to overlay on top. Only then can you get a 3D view of how and why the workforce is making the decisions on workspace…
We have seen global oil and gas majors, big-four consulting firms, and even law firms completely re-write workplace strategies. The consistent pattern across these strategies is that we now see the employee at the centre and a complete revisioning on the 'purpose' of offices. Workspaces made up of individual desks and the destructive culture of presenteeism are a thing of the past. Instead, this has been replaced with a core focus on collaboration.
We are seeing these changes implemented first-hand with one of our largest clients aiming to make individual work points represent just 26 percent of the total square footage of its space. The remaining area will be used for social, hybrid and focused collaboration. For this client, it's a work in progress and they've not yet got it 100 percent right yet and they know this. In fact, it's probably fair to say that today, 0 percent of companies do.
Whilst businesses navigate the new way of working, we've seen clients take initial steps to increase productivity and meet the needs of the team. This has included:
Acting fast – Moving a pilot team, business or site into a new 'hybrid' office designed to meet the employees' collaborative and technological needs while meeting the hypothesis as quickly as possible. This has allowed face-to-face meetings to resume with clients, embed new team members and helped collaboration within businesses to thrive once again.
Smart measurement and learning – Clients have increased their analytical ability by employing technology to anonymously analyse the way the workspace is being used like never before. This has provided the opportunity for businesses to learn exactly what their people like and dislike, what spaces work, and which spaces are always empty. Over time, these tracked results have provided invaluable insights.
Test and evolve – Using the findings and clever design to dynamically test areas with new furniture, layouts and designs to validate findings. This has in turn helped these businesses to build a better understanding of their people and long-term workplace strategies supported by accurate 'hybrid' data.
In some cases, businesses have created these pilot spaces within their existing estate but for most, change is best curated through relocation – and we've seen lots of businesses make use of the Serviced Office and Managed Solutions to deliver, test and evolve at speed at their next lease event.
What this approach gives you is data – a view on workplace performance and the opportunity to fail fast. I believe this is why so much corporate demand is tipping over into flex as it gives a low-risk, fast-access approach to test out new workplace strategy. And flex operators are also experts at the creation of easily reconfigurable space that allows them to try out different options.
In the final verse of Should I Stay or Should I Go, Joe Strummer decided to sing Spanish backing vocals (despite not being able to speak the language) to Mick Jones' English lead. The fact that the two singers and frontmen were literally singing in different languages at that stage was indicative of their failure to communicate. With employers singing one tune and their teams another about the workplace, we look like we are facing another painful break up. CRE teams really need to understand more about how their colleagues feel about workspace and to do that is going to take more time spent in "discovery" and searching for data before long-lasting decisions can be made.