April 9, 2015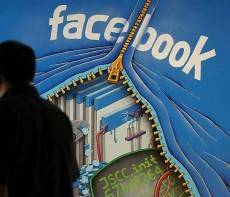 This week Facebook moved into its new offices in Menlo Park, California. As you might expect they are somewhat out of the ordinary. Designed by Frank Gehry, they are bright, open and loaded with quirky and colourful design ideas. Yet upon closer inspection their underlying office design principles are often resolutely mainstream, not least the inclusion of what is billed as the world's largest open plan office. In fact this has the personal backing of the CEO himself and has long been the core element in the brief because Facebook sees the idea of openness as being an essential part of its mission and business model. Mark Zuckerberg announced the opening of the building on his own Facebook page (where else?). In his official statement, he explains the thinking behind the design in an interesting way and it bears reproducing.
"Today we moved into our new Facebook building in Menlo Park, California," he wrote. "Our goal was to create the perfect engineering space for our teams to work together. We wanted our space to create the same sense of community and connection among our teams that we try to enable with our services across the world. To do this, we designed the largest open floor plan in the world — a single room that fits thousands of people. There are lots of small spaces where people can work together, and it's easy for people to move around and collaborate with anyone here. On the roof is a 9-acre park with walking trails and many outdoor spaces to sit and work. The building itself is pretty simple and isn't fancy. That's on purpose. We want our space to feel like a work in progress. When you enter our buildings, we want you to feel how much left there is to be done in our mission to connect the world."
In other words, Facebook are adopting mainstream office design principles about open plan working supported with a range of other spaces that we see applied everywhere, including for firms with far fewer employees than Facebook's 2,800.
The reason they are doing this is because this particular design model works. It has its drawbacks, of course, but so do its alternatives. And it delivers some important advantages that clearly outweigh those disadvantages in certain cases. The trick is not to work out what is the best office design model for you and your organisation.
The most obvious benefit of the open plan office is its cost efficiency. You only need around a third of the space for an open plan office compared to cellular offices. It also costs about 25 percent less to fit out. In places like London this translates into a considerable cost saving.
Research, such as this from office furniture manufacturer Knoll proves that open plan workplaces significantly improve knowledge exchange between employees – exactly the reason why it has been adopted by Facebook. Partly this is down the phenomenon of 'constructive eaves-dropping' in which people will talk about a problem or a project and their colleagues will join in with information and ideas.
It also increases our sense of belonging, according to the Knoll study and others and improves the way we collaborate with our colleagues and clients. According to one Harvard Business Review study, companies that encourage collaboration by switching from closed-offices to open-offices achieve performance increases of over 400 percent.
What it does rather less well of course, is provide people with privacy but this too can be accommodated by offering them a choice of places in which to work or get away from work for a short time. This exact same principle is applied both at the new Facebook office and in our current project with Teleperformance in Gateshead. These are very different organisations in most ways but they have found a common purpose in the way they create a working environment.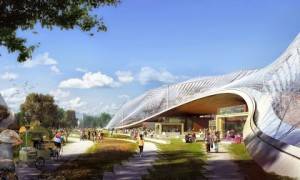 This isn't even anything new for the world's tech giants. A couple of years ago, Yahoo famously got itself into a bit of  PR storm when it announced to staff that it wanted them all to work under the same roof. But as the dust from this storm settled, what became apparent was that Yahoo's actions were based on a tacit understanding that people work better on certain tasks when they are together. In this regard, Yahoo has the same objectives in terms of its workplace strategy as Google, which last week released the eye-popping and lauded plans for its new offices in Silicon Valley. The new offices follow a familiar route for Google in that they are clearly intended to attract people to work alongside each other in the same place and to maximise the chance they will bump into other people.
In an interview in 2013, David Radcliffe the Real Estate Director of Google explained how the company's brief to create  a floor plan that would maximise casual collisions of the work force. "You can't schedule innovation," he said. "We want to create opportunities for people to have ideas and be able to turn to others right there and say, 'What do you think of this?'
So why hasn't Google's focus on bringing people into the workplace to work alongside each other met with the same criticism applied to Yahoo? At the most obvious level, Google is handling the issue with a velvet glove, using architecture and workplace design to guide people. Yahoo, on the other hand, was applying the blunt instrument of a memo from HR to oblige people to inhabit the same workspace.
Of course, these things can change very quickly in the world of technology, but maybe two of the major lessons to learn from the backlash Yahoo has endured in the past week are that nobody loves you when you're down and out and that when it comes to managing people nowadays, a nudge is more effective than a push. What is great about the new Google offices is that the push comes courtesy of some very human and nature centred design.
__________________________________________
Charles Marks is the Managing Director of office refurbishment, design and fit-out company Fresh Workspace. www.freshworkspace.com