March 1, 2013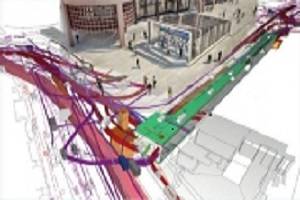 The widespread adoption of Building Information Modelling (BIM) in architecture, design and construction has moved closer with the publication by the Construction Industry Council (CIC) yesterday of the BIM Protocol, a legal framework for BIM projects. The use of BIM as a collaborative way of working that utilises digital technologies for more efficient methods of designing, creating and maintaining properties has been described as a game-changing ICT and cultural process for the built environment, with the Government's intention to require collaborative 3D BIM on all its projects by 2016
The UK Government set out its commitment to BIM as part of its 2011 Construction Strategy, led by the Cabinet Office. This included electronic access to all project and asset information, documentation and data, and as we reported last week, the UK's BIM Task Group launched a Digital Plans of Work site on 28 February to coincide with the publication of the new protocol.
Explained infrastructure law specialist Chris Hallam of Pinsent Masons and a founding member of the Construction Industry Council's (CIC's) 'BIM2050' group: "The CIC's new Protocol is a great step forward for widespread BIM adoption in the UK and is to be welcomed,"
Hallam said. "The Protocol is intended to sit alongside the underlying contract documents but generally takes precedence in the event of any conflicting provisions elsewhere in the contract documents, so careful thought needs to be given to the underlying contract and related documentation."
"The project specific details in the appendices will need to be very carefully completed and, as with any generic standard document, consideration will be needed on a case by case basis as to whether or not the Protocol is appropriate," he added.
Pinsent Mason's advises that the Protocol needs to be incorporated into existing construction contractual arrangements, although its terms can then be amended to set out particular rights around intellectual property ownership. It sets out the obligations that the different contracting parties would have to adhere to under the terms of individual projects, including that employers ensure that the main information document on a project is kept up-to-date during set stages of that project and that they ensure an 'Information Manager' is in place to oversee the modelling process.
Alongside the BIM Protocol the Construction Industry Council (CIC) has also published two further BIM documents: Best Practice Guide for Professional Indemnity Insurance when using BIM and, Outline Scope of Services for the role of Information Management.
All three documents are available to download free at www.cic.org.uk