May 2, 2017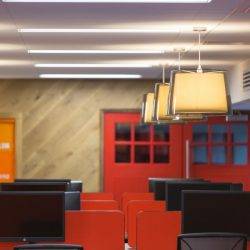 The £10 million new headquarters of Wolverhampton beer and pubs group Marston's has been named as the Best Corporate Workplace at the British Council for Offices' annual Midlands and Central England Property Awards. The refurbishment was led by interior design firm Newman Gauge. Centre City, in Birmingham, gained the award for best commercial workplace following a redevelopment by owner Bruntwood. The judging panel said the 1975 building had been brought back to life by the refurbishment. Energy Systems Catapult, a workspace lab based at Cannon House won the award for best fit out of a workplace, with judges praising the company ethos to stimulate innovation in energy technologies.
Another Birmingham winner was the The Colmore Building which has undergone a programme of renovation and rebranding, from Colmore Plaza, following its acquisition by AshbyCapital in 2015. BCO judges praised the £3.3 million enhancement programme which has turned a "good but tired building into a great, modern base for businesses" with a new cycle hub and ground floor café among the work carried out.
The other winners were Alconbury Weald Club, Huntingdon in the projects up to 1,500m² category, and The Officers' Mess Business Centre, Cambridge in the best refurbished and recycled workplace category.
Ed Hancock, estates director for Marston's said: "We are delighted with the award and firmly stamps our recognition of investment into the city of Wolverhampton. This was a huge project for us and we are truly proud of the final outcome."
The BCO judges stated that: "Whilst this project was a major refurbishment, the team felt that it was a far better proposition as a corporate workplace scheme given the story around both the decision to stay in Wolverhampton and the extent to which the project breathes the Marston's brand." They said Marston's House "exudes pride and encourages creativity, innovation and a new modern way of working".
By utilising and enhancing the original building, the judges said, it was made fit for purpose as home for a forward-thinking pub operator and brewer. The judges also noted that the workspace is a marriage of informal workspaces and meeting areas that encourage agile working with workspaces such as team tables, quiet booths and individual desks. They praised the new atrium and connecting bridges which they said enhance the movement of people between departments and encourage relationships with the wider business
In particular, the judges were complimentary of the prominent staircase which is situated at the heart of the building, naturally drawing people to its use rather than choosing the lifts, thus reducing energy use for vertical circulation. Overall, the judges said Marston's House is an exemplar of how to bring the physical building, workplace and its people together as one.
Richard Kauntze, chief executive of the BCO,said: "Once again, businesses across the Midlands and Central England have put forward some incredibly strong examples of intelligent and well executed workplaces. Marston's House now provides an exceptional, future proof office that uses the space well and adapts the original building into a place which the workforce can be proud of. Alongside the other buildings recognised at this year's awards, Marston's House sets a standard of quality for future projects around the UK."
Judging chairman, Matt Viall of Turner & Townsend, added: "The impressively high calibre of entries for this year's awards in the Midlands and Central England has made the task of the judging panel stimulating and challenging in equal measure. All nominees from across the region were of a high standard again and it is always inspiring to see the variety and depth of thought that goes in to creating great workspaces. The projects continue to surpass the BCO's benchmark for excellence in the office sector and it is particularly pleasing that great projects are being delivered in every part of the region and also recognised nationally."